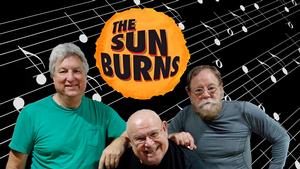 The Sun Burns
Ballroom, Easy Listening, Jazz, Swing

Easy listening or exciting sounds from urban smooth jazz instrumental trio, The Sun Burns with over 50 years of performances all over the country. Now this Port Richey based trio let the sax, drums and bass do all the music from yesterday in a new and contemporary way. "Let the horn do the singing", said Scott. Feel the passion and still be able to converse. Dance or just listen to the exciting sounds from Scott Birdwell, (THE BIRD) on alto sax. He is painting sound colors from that sax like you have never heard before. Yet you can feel the tempature of the blues and the heat of the red's. He blows with a casual attack from old charts that paints a colorful landscape in your heart that makes you feel better. Do yourself a favor and come hear The Sun Burns live. You'll be glad you did.

Upcoming Events
There are no upcoming events scheduled.