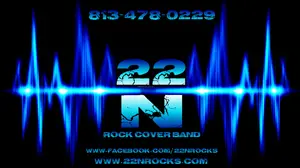 -22N-
High Energy Dance, Metal, Pop, Rock

ALWAYS a Party, NEVER Watered Down! We are a high energy, professional 5 piece band that plays a variety of top hits from the 80's to today, and from different genres as well. To compliment our rockin' music, we have video screens and cool lighting, but no tracks here! We play all our own music.
Some artists covered include: Bruno Mars, P!nk, Adele, AC/DC, Evenescence, Ellie King, The Cult, Beastie Boys, Journey, Theory of a Dead Man, DNCE, John Mellencamp, Tom Petty, Maroon 5, .38 Special, Donna Summer, 3 Doors Down, Motley Crew, Prince, Wild Cherry, Melissa Ethridge, Poison, Lit, Def Leppard, Queen, Big & Rich, Bryan Adams, Guns and Roses, Luke Bryan, Santana, Camilla Cabello, Duo Lipa, Twisted Sister, Bon Jovi, Cranberries, Outfield, Avenged Sevenfold, Whitney Houston and more!

Upcoming Events
Venue
Date
Woody's River Roo
Ellenton
Fri, January 21
8:00pm - 12:00am

Motorworks Brewing
Bradenton
Sat, January 22
7:00pm - 11:00pm

Stottlemyer's Smokehouse
Sarasota
Fri, January 28
7:00pm - 10:00pm

SandBar Tiki & Grille
Englewood
Sat, January 29
7:00pm - 11:00pm

Toasted Monkey
St. Pete Beach
Sat, February 5
6:00pm - 10:00pm

88 Live Piano Bar
Bradenton
Sun, February 6
5:00pm - 8:00pm

Off The Wagon
Venice
Fri, February 11
8:00pm - 12:00am

Stottlemyer's Smokehouse
Sarasota
Sat, February 12
7:00pm - 10:00pm

Woody's River Roo
Ellenton
Fri, February 25
8:00pm - 12:00am

SandBar Tiki & Grille
Englewood
Sat, February 26
7:00pm - 11:00pm

First Friday St. Pete
St. Petersburg
Fri, March 4
6:00pm - 10:00pm

Toasted Monkey
St. Pete Beach
Sat, March 5
6:00pm - 10:00pm

TT's (the Tiki) Bar on Charlotte Harbor
Punta Gorda
Fri, March 11
7:00pm - 11:00pm

SandBar Tiki & Grille
Englewood
Fri, March 18
7:00pm - 11:00pm

Gator Club
Sarasota
Sat, March 19
9:30pm - 2:00am

Peggy's Corral
Palmetto
Peggy's Anniversary Party
Sun, March 20
12:00pm - 6:00pm

Joyland Live Sarasota
Sarasota
Fri, April 1
9:30pm - 1:30am




Previous Events