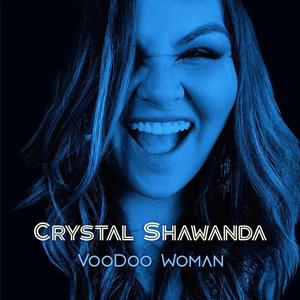 Crystal Shawanda grew up on the Wikwemikong Reserve, on an Island in Canada. Her Parents raised her on country music, and taught her to sing, and play guitar, and it was her oldest brother who introduced her to the blues. He would hang out in the basement cranking Muddy Waters, B.B.King, and Etta James, and Crystal would sit at the top of the stairs, straining to hear the soulful sounds, wandering if she could sing like that? and when no one was home, Crystal would practice singing the blues. She started singing on stage when she was 6, and getting paid gigs when she was 10, and instantly playing every stage she could, including touring with a theatre company when she was 9. She recorded her first album in Nashville when she was 13, and moved away from home that same year to attend a music school. However she got restless and at 16 she dropped out of school, and moved to Nashville!

Crystal is currently getting ready for the official worldwide release of "Voo doo woman" , and will be back on the road this summer/fall, and is already looking ahead and currently in the studio working on another blues album, a children's album, and an Aboriginal album.
Crystal Shawanda is a soulful little powerhouse, and will make you feel every word. With a voice that's not like anyone you've ever heard, it's pure and precise, yet gritty and gutsy at the same time. Her high energy show will make you dance, sing, laugh, and cry, so do yourself a favor, and see if she's singing anywhere near you!

- Juno award winner
- 6 time Juno nominee
- CCMA female artist of the year
- CRMA winner (Canadian radio music award)
- Highest charting Native American in Billboard history
- Recipient of the Gabriel award for PSA of the year ( a commercial which featured Crystal, and aired internationally)
- Crystal has toured with, and opened for (Reba, Brad Paisley, Blake Shelton, Carrie Underwood, Keith Urban, Eric Church, Toby Keith, Dwight Yoakam, Nelly Furtado, Wynnona, Taylor Swift, The Eagles, Steve Earle, Martina Mcbride, Little Big town, Loretta Lynn, Joe Nichols, Tegan and Sara) just to name a few.

Upcoming Events
There are no upcoming events scheduled.



Previous Events