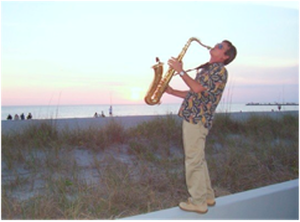 Sax On the Beach
Americana, Blues, Jazz, R&B/Soul
I grew up in Tampa, Florida and have been playing professionally since 1973. I have toured or performed with the Flamingos, the Del Vikings, The Coasters, Gladys Horton and the Marvelettes, Chuck Berry and Fats Domino and Bandana.
I was a leader of the contemporary Christian rock band "New Song" in the mid 70s and was the leader of "The Touch" from Palm Springs, CA in the mid 80s.
In 1995 I moved to Englewood, Florida where I have been performing ever since at places like Farlow?s On the Water, Vino Loco, Venice VFW, Rotonda American Legion, Englewood VFW, Sarasota American Legion Post 266 and more.

Upcoming Events



Previous Events