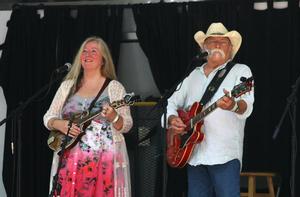 Lucky Mud
Americana, Country, Folk

Lucky Mud loves to tour, but with the exception of selling out the Linenhall in Castlebar, Ireland, or taking the main stages at the Florida Folk and Will McLean festivals, most of our long musical career has been spent in little clubs and out-of-the-way halls. We didn't plan it that way, but it's been a great ride.

Maggie and I are songwriters, really. We just happen to love being on stage and playing our songs to a live audience more than spending time in our studio.

We've shared the stage with some remarkable artists as well. Lucky Mud has hosted three great Americana series at the beautiful art-deco Martin Theatre in Panama City, Florida, playing with some truly amazing people. Two were recorded and aired by the local PBS radio station and this latest is being filmed for Fox TV showings in the Fall.

We'd love to have you spend a little time listening to our original music here on our website, and we'd love to hear from you as well.

Upcoming Events
There are no upcoming events scheduled.



Previous Events