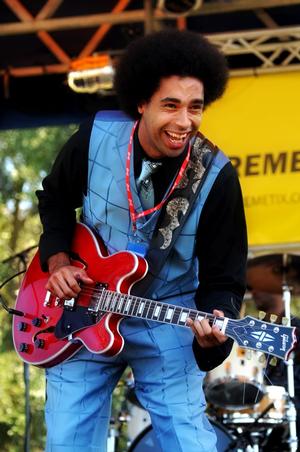 Selwyn Birchwood
Blues


****2010 shaped up to be a great year for Selwyn and the band as they opened for many nationally acclaimed acts including: Buddy Guy, Robert Cray, John Lee Hooker Jr., Kenny Neal, Zac Harmon, and Joanna Connor. You can also catch him regularly at B.B. King's Blues Club (Orlando)****

Selwyn Birchwood stumbled upon the Blues at age seventeen while attending a Buddy Guy concert in Orlando. After witnessing the raw energy and power the music created first hand, he decided it was what he wanted to pursue. He has spent the years since then trying to hone his skill to convey the same intensity and feeling of the blues greats.

After seeing him perform in a local club, Texas Bluesman Sonny Rhodes offered him the chance to hit the road and tour nationally. Selwyn quickly took advantage of the opportunity and has frequently toured with his blues mentor across the U.S. and Canada at many premiere venues including: Terra Blues in New York City, Big Muddy Blues Festival in St. Louis, Beltline Blues Fest in Calgary, Alberta, and Buddy Guy's Legends in Chicago.

In 2009, Selwyn and his band took 1st place in the Central Florida Blues Challenge. This win offered them a chance to compete in the International Blues Challenge held in Memphis, Tennessee where they finished in the top 4 of the "Beale Street Blues Kings" semi-finals competition.

Selwyn is backed by a rock-solid rhythm section that is as bluesy as it gets. Huff Wright(Bass) and Calvin Craddock (Drums) are seasoned veterans and no strangers to the road.They have toured with many notable artists including Lucky Peterson, Bill Wharton, Joey Gilmore, and Ace Moreland among others. They truly provide the perfect canvass for Selwyn's unique brand of swampy, FLorida Blues!


Upcoming Events


Thu, September 19, 2019
7:30 to 10:30 pm $15 front/$12 rear
Sarasota

Fri, September 20, 2019
8 to 11 pm $20 front/$15 rear
Sarasota

Fri, November 1, 2019
8:00 p.m. $15.00
Ft. Myers

Sat, November 30, 2019
Tampa

Sat, December 21, 2019
8 to 11 pm $20 front/$15 rear
Sarasota




Previous Events


Thu, August 29, 2019
8pm w/Chuck Riley's Blues Revue
Zephyrhills

Sat, August 17, 2019
8pm w/ Gloria West and the Gents $10/$13
Tampa

Wed, June 26, 2019
7pm $5.
Englewood

Fri, May 31, 2019
8:00 p.m. $15.00
Ft. Myers

Sat, April 27, 2019
8-10pm $Tickets
St. Petersburg