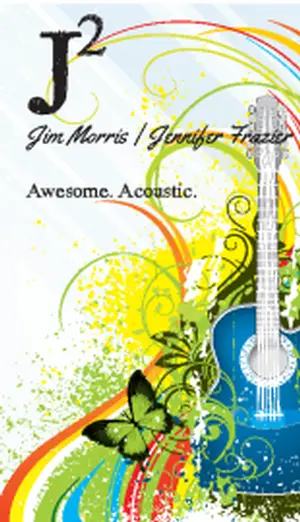 J2
Acoustic, Beatles, Blues, Classic Rock

We're J2, a classic rock and R&B duo made up of Jim Morris and Jennifer Frazier. Jim Morris is co-owner of Tampa-based Morrisound Studios, and has engineered for such great artists as Trans Siberian Orchestra, Iced Earth, Faith Hill, Jennifer Hudson and more. For more than three decades, Morrisound has been the studio of choice for musicians in the know and big bands alike that only the best studios can accommodate.

Jim has played with Jennifer Frazier for more than a decade. She is a former vocalist with BOOM, the Traveling Wannabees, the Stingrays and more. By day, Jennifer runs an advertising studio. By night, she and Jim weave a rich guitar and vocal tapestry that is both inspiring and unforgettable. Due to Jim's engineering prowess, we perform with original ProTools tracks giving us a full sound. Artists we cover include Adele, Stevie Winwood, Peter Gabriel, Led Zeppelin, Jefferson Airplane, The Moody Blues, Bill Withers, Sam & Dave, Rare Earth, Dire Straits, Bonnie Raitt, and much, much more.

We'd love to play for your guests, and have a loyal fan following. To learn more, visit http://www.gigsalad.com/j2_dade_city.

Thanks so much!

Upcoming Events
There are no upcoming events scheduled.



Previous Events