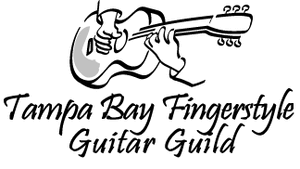 Tampabay Fingerstyle Guitar Guild
Acoustic , Beatles , Easy Listening , Jazz

4 to 10 fingerstyle guitarists perform without a break!

Solo guitar music played in the style of; Chet Atkins, Jerry Reed, Tommy Emmanuel and many others!

Genres may include: blues, slack key, ragtime, folk, flamenco, classical, pop, rock and Christmas.

Upcoming Events


Sat, June 20, 2020
7pm - 10:30pm $Free
Safety Harbor




Previous Events


Sat, May 16, 2020
7pm - 10:30pm $Free
Safety Harbor

Wed, March 4, 2020
7:00pm - 10:00pm $Free
Dunedin

Sat, February 15, 2020
7pm - 10:30pm $Free
Safety Harbor

Wed, February 5, 2020
7:00pm - 10:00pm $Free
Dunedin

Sat, January 25, 2020
6pm - 9pm $Free
St. Petersburg