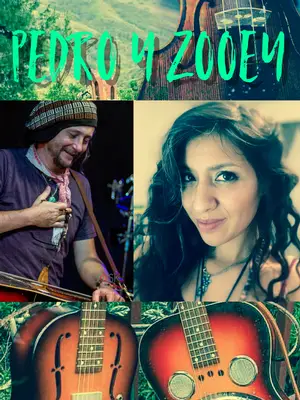 Pedro Y Zooey
Americana , Blues , Latin , World


Pedro Arevalo & Zooey Seraphine bring a rustic, acoustic folk act that blends Americana, Latin, Delta Blues, and Calypso influences, as they sing folk songs from around the world, and juggle guitar, fiddle, dobro, Puerto Rican cuatro, and other stringed instruments. As a trio or full band, they incorporate percussion, and bass.

Upcoming Events
There are no upcoming events scheduled.



Previous Events


Sun, July 28, 2019
7:00 pm
Siesta Key

Mon, July 22, 2019
6:30PM - 10PM $None
Sarasota

Sun, July 21, 2019
7:00 pm
Siesta Key

Mon, July 15, 2019
6:30PM - 10PM $None
Sarasota

Fri, July 12, 2019
6:30PM - 10PM
Sarasota