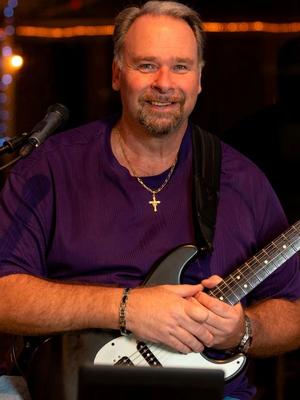 Larry 'Stretch' Mott
Classic Rock, Country, R&B/Soul, Southern Rock
Hi everyone, I am a native Floridian, grew up in Lakeland, and have been playing guitar since I was 12 years old. In gigs all around Tampa Bay, the music consists of drum parts written on computer, and the bass guitar recorded live in my studio and sometimes an acoustic guitar is added, then mixed down to tracks. I also have some tracks that have been studio produced with horns and other instruments too. The vocals and lead guitar are live, so I have a multi-piece band sound with a solo act. Music played is Country, 70's & 80's, Southern Rock, Classic Rock, Dance, Reggae, Hip-Hop, Rap and Motown. I have played in honkytonks and venues all over Tampa Bay since 1989, and played in Okinawa, Japan while stationed at Kadena Air Base in the U.S Air Force for seven years and served during Desert Storm.

I have been blessed to share the stage with some incredible names like Charlie Daniels, Marshall Tucker, Confederate Railroad, and Jason Aldean.

I truly love playing music and seeing the responses of my fans enjoying the music I'm making. See you soon!!

Upcoming Events
There are no upcoming events scheduled.



Previous Events