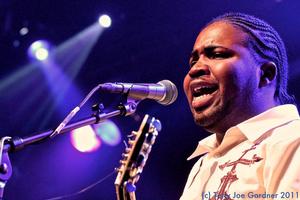 Marquise Knox Band
Blues

Marquise recently released his third album, Here I Am, once again recorded at the legendary Blue Heaven Studios in Salina, Kansas. It features Marquise and his band, with a little help from Wayne Sharp of Michael Burk's band sitting in on B-3 and piano.
Nine originals, and three reverent covers of Marquise's favorite Muddy Waters tunes.
I think this excerpt from Here I Am's liner notes says it best. "When you listen to Marquise - 19 years old when he recorded this title - you get the sense that this is what those masters must have sounded like as young men. Marquise's blues are so transparent and bare. It's so easy to feel his music as totally legitimate. That's above all what makes it so appealing. That's what makes Marquise Knox special. He's the whole package. A throwback blues master on the rise. Anybody believe in reincarnation?"

Upcoming Events



Previous Events