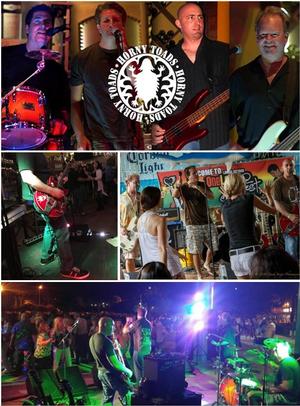 The Horny Toads
Rock


The Horny Toads have been rocking the Tampa Bay Area since 2002 - a fun bunch of guys with a cool mix of rock & funk that you could groove & dance to.

Scott Tate (Lead Vocals)

Russ Hval (Guitar/Bass)

Stan Woodruff (Guitar/Bass)

Tom Kaminksy (Drums)

We play a variety your favorite Rock & Funk tunes to get the party going, including The Neon Trees, Sublime, Kid Rock, Tom Petty, LIT, Beastie Boys, John Cougar, Matchbox 20, The Cure, Prince, Foo Fighters, Jimmy Eat World, Blink 182, The Ramones...

Upcoming Events



Previous Events


Fri, December 6, 2019
8:00 PM - 11:00 PM at 3 Daughters! $FREE
St. Petersburg

Fri, November 22, 2019
7-11 PM Wild Rover in Westchase!! $FREE The Horny Toads at Wild Rover Brewing!
Tampa

Fri, November 15, 2019
8:00 PM - Midnight at Gators! $FREE
Treasure Island

Fri, October 18, 2019
8:00 PM - Midnight at Gators! $FREE
Treasure Island

Fri, October 11, 2019
7-9 PM St Pete Beach Concert $FREE Concert in the Park 2019
St. Pete Beach