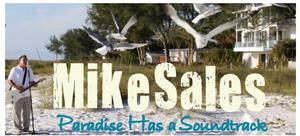 Mike Sales
Acoustic , Contemporary , Pop


The crisp tropical sound of Mike Sales singing and playing guitar is the perfect accompaniment to dancing, dining or just relaxing in Paradise.
With lush vocals, simple arrangements and crystal clear sound, its no wonder, a Bradenton Beach proclamation named him the city's "Official Balladeer"
"Paradise Has a Soundtrack."

Upcoming Events
There are no upcoming events scheduled.



Previous Events


Sat, August 31, 2019
7pm to 8:30 sunset cruise $Adults 30 Seniors 25
Bradenton Beach

Fri, August 30, 2019
5:30-8:3pm live music on the beach!
Bradenton Beach

Thu, August 29, 2019
7pm to 8:30 sunset cruise $Adults 30 Seniors 25
Bradenton Beach

Wed, August 28, 2019
7pm to 8:30 sunset cruise $Adults 30 Seniors 25
Bradenton Beach

Sat, August 24, 2019
7pm to 8:30 sunset cruise $Adults 30 Seniors 25
Bradenton Beach