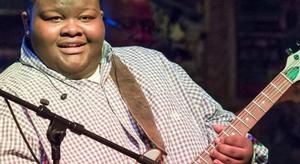 Christone "Kingfish" Ingram
Blues

Born in 1999, Kingfish began playing the drums at age 6, bass guitar at the age of 9, and lead guitar at the age of 11. By the age of 14, he was great on all three instruments and has added vocals to his ever-growing list of talents. Kingfish is a living phenomenon, soon destined to be a living legend! He has won the following awards: 2015 Artie "Blues Boy" White Youth Scholarship Award, 2015 Jus' Blues "IN HONOR OF B.B. KING" King of The Blues Award, 2015 Robert Johnson Rising Star Award presented by The R&B Hall of Fame, 2015 Muddy's "Performance of The Year" Award at The Safeway Waterfront Blues Festival, 2015 Sean Costello Rising Star Award Nominee, 2016 Young Blues Generation Award presented by The Bellinzona Blues Sessions Festival, and 2016 Rising Star Award presented by The 3rd Annual New Blues Festival.

Upcoming Events
There are no upcoming events scheduled.



Previous Events