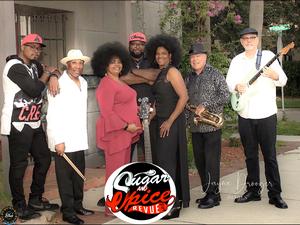 Sugar and Spice Revue
Blues, Funk, Pop, R&B/Soul

Sugar and Spice Revue is an exciting musical experience and ultimate party band from Tampa, Florida. Sisters Myra "Sugar" Glover and Velma "Spice" Glover front the band with powerful, gospel-tinged, blues drenched vocals. Since their 2nd place win in the finals at the 2017 International Blues Challenge in Memphis, TN, Sugar and Spice have been Bluesin', Rockin', and Funkin' it up on some of the hottest Festivals and Stages in the Tampa Bay/Orlando Area.
As little girls Sugar and Spice learned to sing at the feet of their mother, the late Loretta Glover, a Florida R&B/Soul and Blues Legend. On Sunday mornings, spirited shouts, singing and hallelujahs emanated from a small church house where the Glover family attended and Sweet Loretta sang up praises. At home soul, blues and gospel music were as aromatic as the sweet smells of Loretta's famous apple jelly cakes. And as it is said, "the apple doesn't fall far from the tree" so, it was only natural that her daughters would develop a profound love and passion for soul-stirring melody making. Together Sugar and Spice's style incorporates the movements of Rock-n-Roll, the spirit of Gospel and the true essence of Funk and Soul.
The players providing the Rhythm, are all road tested pros with Blues, Soul and Gospel chops. Whether performing their original titles or the Classics, the Sugar and Spice Revue packs passion into every performance. Part Saturday night juke joint holler, part Sunday morning Hallelujah, the Sugar and Spice Revue will move you to your feet and touch your musical soul.

Upcoming Events
There are no upcoming events scheduled.



Previous Events