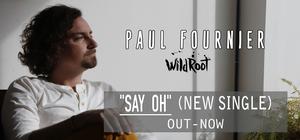 Paul Fournier
Indie, R&B/Soul, Rock

Paul is known as a Professional Musician/ Producer/ Songwriter/ Guitarist/ Vocalist/ Drummer. He was born and raised on the west coast of FLA and started playing and performing music in 2001. Since, he's traveled and performed in FLA and the North East. Paul has worked with numerous local artists and has recently released his Wild Root LP - its an incredible piece of work!!

Upcoming Events
There are no upcoming events scheduled.



Previous Events