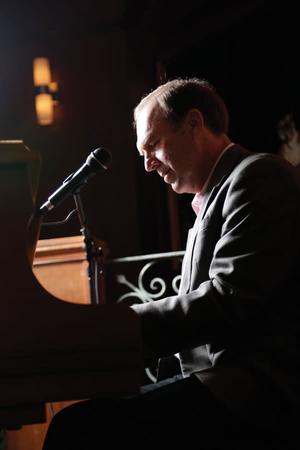 Eddie Tobin
Acoustic, Blues, Easy Listening, Jazz
Eddie is a native Floridian. He has been singing and playing piano since he was eight years old. Attending the University of Miami, Eddie was in the Studio Music and
Jazz Piano program. He entertained around the country and on cruise ships.

He spent 15 great years in Nashville accompanying the Forester Sisters, who opened for Kenny Rogers, and traveling with Brenda Lee. For seven and a half years, Eddie was music director, pianist, conductor and arranger for Engelbert Humperdinck.

While attending a Eddie Tobin show you will hear jazz, blues, standards, ragtime, classical, pop, calypso and country music. People will enjoy his renditions of songs by Jimmy Buffett, Leon Russell, Ray Charles and Johnny Cash.

Upcoming Events
Venue
Date
Amore Restaurant
Sarasota
Wednesday night with Eddie Tobin
Wed, June 21
6:00pm - 9:00pm
$0
Amore Restaurant
Sarasota
Friday night with Eddie Tobin
Fri, June 23
6:00pm - 9:00pm
$0
Amore Restaurant
Sarasota
Sunday night with Eddie Tobin
Sun, June 25
6:00pm - 9:00pm
$0
Amore Restaurant
Sarasota
Wednesday night with Eddie Tobin
Wed, June 28
6:00pm - 9:00pm
$0
Amore Restaurant
Sarasota
Friday night with Eddie Tobin
Fri, June 30
6:00pm - 9:00pm
$0
Amore Restaurant
Sarasota
Sunday night with Eddie Tobin
Sun, July 2
6:00pm - 9:00pm
$0
Amore Restaurant
Sarasota
Wednesday night with Eddie Tobin
Wed, July 5
6:00pm - 9:00pm
$0
Amore Restaurant
Sarasota
Friday night with Eddie Tobin
Fri, July 7
6:00pm - 9:00pm
$0
Amore Restaurant
Sarasota
Sunday night with Eddie Tobin
Sun, July 9
6:00pm - 9:00pm
$0
Amore Restaurant
Sarasota
Wednesday night with Eddie Tobin
Wed, July 12
6:00pm - 9:00pm
$0
Amore Restaurant
Sarasota
Friday night with Eddie Tobin
Fri, July 14
6:00pm - 9:00pm
$0
Amore Restaurant
Sarasota
Sunday night with Eddie Tobin
Sun, July 16
6:00pm - 9:00pm
$0
Amore Restaurant
Sarasota
Wednesday night with Eddie Tobin
Wed, July 19
6:00pm - 9:00pm
$0
Amore Restaurant
Sarasota
Friday night with Eddie Tobin
Fri, July 21
6:00pm - 9:00pm
$0
Amore Restaurant
Sarasota
Sunday night with Eddie Tobin
Sun, July 23
6:00pm - 9:00pm
$0
Amore Restaurant
Sarasota
Wednesday night with Eddie Tobin
Wed, July 26
6:00pm - 9:00pm
$0
Amore Restaurant
Sarasota
Friday night with Eddie Tobin
Fri, July 28
6:00pm - 9:00pm
$0
Amore Restaurant
Sarasota
Sunday night with Eddie Tobin
Sun, July 30
6:00pm - 9:00pm
$0



Previous Events
Venue
Date
Amore Restaurant
Sarasota
Friday night with Eddie Tobin
June 9, 2023
6:30am - 9:30am
$0
Amore Restaurant
Sarasota
Wednesday night with Eddie Tobin
June 7, 2023
6:00pm - 9:00pm
$0
Amore Restaurant
Sarasota
Sunday night with Eddie Tobin
June 4, 2023
6:00pm - 9:00pm
$0
Amore Restaurant
Sarasota
Friday night with Eddie Tobin
June 2, 2023
6:00pm - 9:00pm
$0
Amore Restaurant
Sarasota
Wednesday night with Eddie Tobin
May 31, 2023
6:00pm - 9:00pm
$0