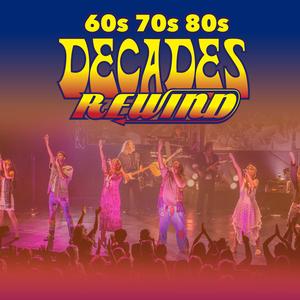 Decades Rewind
Americana, Beatles, Classic Rock, DJ/Dance/Electronic, Funk, High Energy Dance, Rock


Your Music, Your Memories, Your Life

Decades Rewind is a National touring concert, dance party and theatrical performance all wrapped up into one blockbuster show! Come celebrate the hits of the 60s, 70s and 80s, the most prominent decades in music history. Disco, Funk, Rock and Motown all take center stage in this brand new theatrical concert featuring over 60s songs, 100 costume changes and nostalgic video. From Aretha to Zeppelin, Decades Rewind will have you singing and dancing in the aisles. This IS the story of your life!
Christmas shows will showcase extra holiday music from each decade, too!

Upcoming Events
There are no upcoming events scheduled.



Previous Events


Fri, January 26, 2018
7:30 PM $43
Tampa

Sat, December 23, 2017
8PM $27-37
Bradenton

Fri, December 22, 2017
8PM $27-37
Bradenton

Sat, July 8, 2017
8:00 PM -10:00 pm $27-$50
Bradenton

Fri, July 7, 2017
8:00 PM -10:00 pm $27-$50
Bradenton