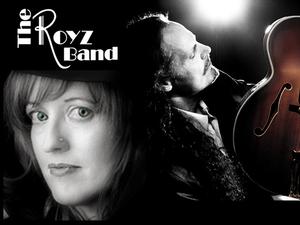 Royz Band
Classic Rock, High Energy Dance, Latin, R&B/Soul
The Royz Band combines the musical talents of Multi-Octave vocalist and percussionist Heather Arden Roy and 7-string guitarist and grooving vocalist André Roy.

The Royz Band performs a unique, exciting and versatile musical mix from their massive repertoire of styles.

They cover all musical genres - Classic Rock, R&B, Motown, Rock & Roll, Country, Oldies, 50s & 60s, Blues, Disco, Latin, Party Dance Hits, Calypso & Reggae, 70's 80's, Top 40, Hip Hop, Swing, Jazz, Ballroom, Line Dancing. Along with surprises like Celtic, French, Spanish and Pop Opera!

Whether you want to dance the night away or just watch and listen, The Royz Band always delivers a great night of entertainment.

Upcoming Events
Venue
Date
Private Event
not disclosed
The Royz @ Sarasota Bay (Concert)
Thu, September 28
8:00pm - 9:00pm

Private Event
not disclosed
The Royz @ IDSYC
Wed, October 4
6:30pm - 9:30pm

Private Event
not disclosed
The Royz @ SPYC (Private)
Fri, October 6
7:00pm - 10:00pm

Private Event
not disclosed
The Royz @ SPYC (Private)
Sat, October 7
7:00pm - 10:00pm

Mattison's Riverwalk Grille
Bradenton
The Royz @ Mattison's
Wed, October 11
6:00pm - 9:00pm

Private Event
not disclosed
The Royz @ MLGC (Private)
Sun, October 22
6:00pm - 9:00pm

Mattison's Riverwalk Grille
Bradenton
The Royz @ Mattison's
Wed, October 25
6:00pm - 9:00pm

Private Event
not disclosed
The Royz @ IDSYC (Private)
Fri, October 27
6:30pm - 9:30pm

Private Event
not disclosed
The Royz Trio @ The Strand (Private)
Tue, October 31
6:00pm - 10:00pm

Mattison's Riverwalk Grille
Bradenton
The Royz @ Mattison's
Wed, November 8
6:00pm - 9:00pm

Private Event
not disclosed
The Royz @ IDSYC (Private)
Wed, November 15
6:30pm - 9:30pm

Private Event
not disclosed
The Royz Trio @ 7 Lakes (Private)
Thu, November 16
6:00pm - 9:00pm

Mattison's Riverwalk Grille
Bradenton
The Royz @ Mattison's
Wed, November 22
6:00pm - 9:00pm

Private Event
not disclosed
The Royz @ The Strand (Private)
Sat, November 25
6:00pm - 9:00pm

Mattison's Riverwalk Grille
Bradenton
The Royz @ Mattison's
Wed, November 29
6:00pm - 9:00pm

Private Event
not disclosed
The Royz @ Fiddlers Creek (Private)
Thu, November 30
5:00pm - 8:00pm

Private Event
not disclosed
The Royz @ SPYC (Private)
Fri, December 1
7:00pm - 10:00pm

Private Event
not disclosed
The Royz @ SPYC (Private)
Sat, December 2
7:00pm - 10:00pm

Private Event
not disclosed
The Royz @ Tidewater (Private)
Tue, December 5
7:00pm - 10:00pm

Private Event
not disclosed
The Royz @ Mission Valley (Private)
Fri, December 8
7:00pm - 10:00pm

Private Event
not disclosed
The Royz @ SRGCC (Private)
Sun, December 10
6:00pm - 9:00pm

Mattison's Riverwalk Grille
Bradenton
The Royz @ Mattison's
Wed, December 13
6:00pm - 9:00pm

Private Event
not disclosed
The Royz @ Bird Key (Private)
Sat, December 16
7:00pm - 8:00pm

Private Event
not disclosed
The Royz @ IDSYC (Private)
Wed, December 20
6:30pm - 9:30pm

Private Event
not disclosed
The Royz @ IDSYC (Private)
Fri, December 22
6:30pm - 9:30pm

Mattison's Riverwalk Grille
Bradenton
The Royz @ Mattison's
Wed, December 27
6:00pm - 9:00pm

Private Event
not disclosed
New Years Eve Gala - The Royz @ CCGC (Private)
Sun, December 31
7:00pm - 12:00am




Previous Events
Venue
Date
Private Event
not disclosed
The Royz @ Freedom (Concert)
September 15, 2023
7:00pm - 8:00pm

Private Event
not disclosed
The Royz @ IDSYC (Private)
September 13, 2023
6:30pm - 9:30pm

Private Event
not disclosed
The Royz @ SPYC (Private)
September 2, 2023
7:00pm - 10:00pm

Private Event
not disclosed
The Royz @ SPYC (Private)
September 1, 2023
7:00pm - 10:00pm

Private Event
not disclosed
The Royz @ IDSYC (Private)
August 18, 2023
6:30pm - 9:30pm