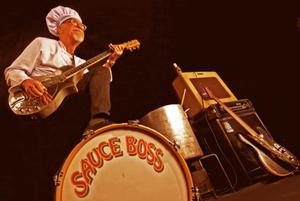 Sauce Boss Bill Wharton
Blues

Bill "Sauce Boss" Wharton brings his own hot sauce to every gig, and he cooks a big pot of gumbo, while smoking his slide guitar. At the end of the Show, everyone gets a bowl. Sauce Boss not only plays slide, sings his tamales off, makes gumbo, and feeds everybody… he also plays a drum kit with his feet. "You take that 53 Telecaster, pump it through that 48 Fender amp, add a bass rig, mix in some drums, all simmered down over some funky swamp blues, and smothered with gumbo, and you got a recipe for a good time. 

Upcoming Events
There are no upcoming events scheduled.



Previous Events


Sat, February 29, 2020
12:30PM Music on the Bay Fest
Tampa

Sat, January 18, 2020
10:30am Pigz in Z'hills Festival $10 Parking
Zephyrhills

Sat, November 16, 2019
8pm w/Nighthawks $10/$15
Tampa

Sat, March 2, 2019
12:30pm Music on the Bay
Tampa

Fri, January 18, 2019
8pm
Tampa