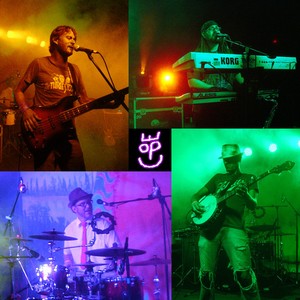 Cope
Alternative, Bluegrass, Classic Rock, Dead

COPE Started as a rock band in the mid 90's. Then, brothers Kenny and Dennis Stadelman, and cousin Roger Pinkerton, had already been playing together for ten years. Growing up in a musical family in northeast Ohio, they all learned about music at an early age. In the early 2000's, they took a different approach towards the music, focusing more on melody and harmony (which they learned from years of listening to the Beatles), and less on riffs and speed.


In 2004, COPE met up with drummer Dave Gerulat, who was playing with the local band Boon. After filling in a couple of times there was an obvious chemistry and it was only a matter of time before Dave was a permanent fixture. Hailing from Richmond Virginia, Gerulat had lived a musical life of his own. Not only playing with several prominent bands in the area, but also studying music in school, watching players like Stuart Copeland, Dennis Chambers, and fellow Virginia drummer Carter Beauford, and playing drum line to learn the chops he wows the audiences with today!


Recently, founding member Roger Pinkerton left the band. They tried to go on as a three piece, however, the complementing melody and leads of Pinkerton were missing. Knowing that another guitar player could never mimic the 23 year chemistry of Pinkerton, the band decided to go a different direction.



Juan Montero had already been playing the Tampa, St Pete scene for a decade with bands such as Grin, Positivity, and Buffalo Strange, and had sat in with Cope on several occassions on sax and keyboards (as well as sitting in with legends such as George Clinton and P funk, up and coming bands like Big Sam's Funky Nation and more.) So when he learned of the tonal void left in Cope... he jumped on it! and the current sound of COPE was born. The live show is incredible and not to be missed!

Upcoming Events
There are no upcoming events scheduled.



Previous Events