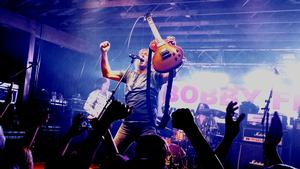 Bobby Friss
Classic Rock, Rock
Bobby Friss has been playing high visibility shows throughout the United States for the past two decades, bringing his music and humor to over a million people.

Bobby's philosophy onstage is to do almost anything to keep his audiences watching and talking about the show for years to come.

Although he started his musical career in Michigan with the band 'Force', most of Friss' accomplishments have come after he formed his own group based out of Tampa, FL. With the right band members in place, his music and shows started to make waves.

Friss appeared on the 'David Letterman' show in New York City in 1982, and soon after was in the studio recording with guitar legend 'Pat Travers'.

'Cut Loose', his first CD was released in 1988 and received regular rotation airplay from many Florida FM stations, helping it sell over 10,000 units in Fl. alone. The single 'You Can't Come Back' was #59 of all songs played in 1988 at WYNF in Tampa, and later charted in the top ten AOR MP3's.

Friss began his long association with 'The Tampa Children's Home' around this time, and by hosting annual concerts, helping raise over $50,000.00 for the charity.

'Miller Brewing' began sponsoring Friss in 1988 and continues to be a part of his touring. He has recorded several national radio spots for them including the 'Tap Into The Cold' and 'As Real As It Gets' campaigns.

In 1990, his second CD 'Fate' was released to rave reviews earning Friss 'Florida Jammy Awards' for best album and best rock vocalist. The song 'Welcome Home' was filmed for video use and received airplay throughout the southeastern US.

From the early days on the road, Friss had a strong following with bikers and that continues to this day. 'Harley Davidson' events are an important part of Bobby's schedule, with annual performances in Daytona Beach, FL. for 'Bike Week' and 'Biketoberfest' and many Wisconsin shows including the 'Milwaukee Rally' and 'Harley Davidson's 100th Celebration'.

Bobby's 'Live CD' was recorded at 'Bike Week' in 2002, and really captured the energy of the band onstage.

The band is the real deal behind Friss' stage antics, and carries the show while Bobby entertains onstage and in the crowd. World renowned guitarist 'Jerry Riggs' is the heart and soul of the BFB. Riggs solo album and songs on films 'Night Shift' and 'Heavy Metal' led him to a 10 year stint with 'Pat Travers, before joining Friss in 1993. Longtime drummer 'Leroy Myers' has picked up several 'Jammy Awards' for best drummer, and bassist 'Dean Mickey' has been Bobby's musical director for over a decade.

With over 120 shows a year, Bobby performs for huge crowds throughout Florida with many summer events in Wisconsin and Michigan.

Around 40 dates a year are performed at the world famous 'Sloppy Joe's' in Key West, FL. Crowds change nightly and are from all over the world. The band can stay at one venue for the week and get exposure to fans from London to Rio to all parts of the US.

The Milwaukee Summerfest is another festival the band has been a part of for the last 10 years, with crowds over 100,000 daily, and the Wisconsin State Fair also attracts large numbers at Bobby's shows.
In 2003, Bobby was commissioned by the 'Cherry Republic' to write and record songs about the people and places of Northwestern Michigan. The CD, 'The Ballads of the Cherry Republic', is full of stories of the farmers, land, and tales of this beautiful area. A portion of the proceeds goes to Michigan farmers.
Two of Bobby's tracks from the 'Fate' CD have been included in Director Thomas Trail's 'Klepto'.'Lonely One' will be heard in the 'Showtime' feature, while 'A Month Of Sundays' will be heard in his upcoming documentary.

Bobby will release a new CD this year, with plans for a Christmas project for the 'Cherry Republic'.
Come on out and see what over a million people already know. Bobby Friss is rockin' and entertaining like he's done for decades across America, the 'real deal' onstage and off.

Bobby Friss has appeared in concert with: Ringo Starr, Everclear, David Crosby, Todd Rundgren, Hall and Oates, B-52s, Eddie Money, Kentucky Headhunters, Molly Hatchett, America, Beach Boys, Pat Travers, Edgar Winter, Head East, Foghat, 38 Special, Jeff Healy, Dixie Dregs, Smithereens, Blue Oyster Cult, Bad Company, Joan Jett, Rick Derringer, Georgia Sattelites, Joe Cocker, John Cafferty, Pure Prarie League, Leon Russell, Saigon Kick, Bangles, Helix, Grassroots, Guess Who, Grand Funk Railroad, Dokken, Billy Squier, King's X, Lou Gramm, Gene Simmons, Wierd Al, Bullet Boys, Autograph, American Hi-Fi, Survivor, Steppenwolf, Little Feat, Otis Day and the Nights, Jerry Seinfeld, and many more.

Upcoming Events



Previous Events