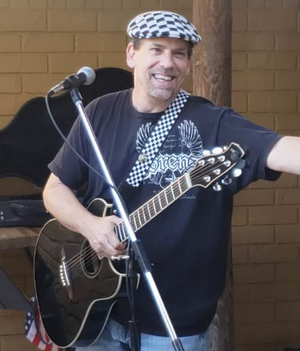 Jerry 'Toledo' Northup
Acoustic, Beatles, Classic Rock, Rockin Blues
Performing semi-professionally since 1986, Jerry is an accomplished lead guitarist, songwriter, vocalist and solo acoustic guitarist/arranger who brings enthusiasm and originality to every show.

He mixes a light hand of humor with a wide-ranging setlist from the great American/British Invasion-solo-acoustic songbook, featuring songs from Clapton, The Beatles, John Fogerty, Neil Young, The Who, Cheap Trick, deeper cuts you don't hear every day, and originals that you never hear from anyone else.

Everybody say "Hi, Jerry!" Ladies and gents, the show is always a show!

Upcoming Events
Venue
Date
Bauser's
Dunedin
Jerry 'Toledo' Northup
Thu, December 7
8:00pm - 11:00pm

Harbor Master Tiki Grille
Seminole
Jerry 'Toledo' Northup
Fri, December 8
4:00pm - 8:00pm

Aging Still Bar & Grill
Largo
Jerry 'Toledo' Northup
Sat, December 9
7:00pm - 10:00pm

American Legion Post 275 Dunedin
Dunedin
Jerry 'Toledo' Northup
Sun, December 10
2:00pm - 5:00pm

Thomas P's Sports Bar & Patio
Tampa
Jerry 'Toledo' Northup
Sat, December 16
4:00pm - 8:00pm

American Legion Post 138
Tampa
Chinatown Chuck and The Mai Tais
Sat, December 23
7:00pm - 10:00pm

American Legion Post 273 Madeira Beach
Madeira Beach
Jerry 'Toledo' Northup
Sun, December 24
1:00pm - 5:00pm

Whiskey Wings - Largo
Largo
Chinatown Chuck and The Mai Tais
Fri, January 12
7:00pm - 11:00pm

Harbor Master Tiki Grille
Seminole
Jerry 'Toledo' Northup
Sun, January 28
4:00pm - 8:00pm

Bauser's
Dunedin
Jerry 'Toledo' Northup
Thu, February 1
8:00pm - 11:00pm

Harbor Master Tiki Grille
Seminole
Jerry 'Toledo' Northup
Fri, February 9
4:00pm - 8:00pm

Niagara Tap
Largo
Jerry 'Toledo' Northup
Sun, February 11
1:30pm - 5:30pm

Shark's Bar & Grill Largo
Largo
Chinatown Chuck and the Mai Tais
Thu, February 29
7:00pm - 8:00pm

Harbor Master Tiki Grille
Seminole
Jerry 'Toledo' Northup
Fri, March 8
4:00pm - 8:00pm

Bauser's
Dunedin
Chinatown Chuck and The Mai Tais
Fri, March 29
9:00pm - 12:00am

Bauser's
Dunedin
Jerry 'Toledo' Northup
Thu, April 4
8:00pm - 11:00pm

Bauser's
Dunedin
Jerry 'Toledo' Northup
Thu, June 6
8:00pm - 11:00pm

Bauser's
Dunedin
Jerry 'Toledo' Northup
Thu, August 1
8:00pm - 11:00pm

Bauser's
Dunedin
Jerry 'Toledo' Northup
Thu, October 3
8:00pm - 11:00pm

Bauser's
Dunedin
Jerry 'Toledo' Northup
Thu, December 5
8:00pm - 11:00pm




Previous Events