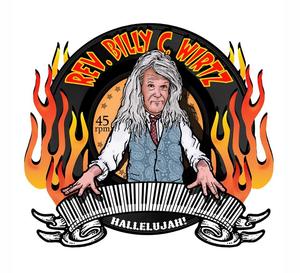 Reverend Billy C. Wirtz
Blues, R&B/Soul
Years ago, I aspired to be a cult figure in the entertainment world. I always dug cats like Bro. Dave Gardner and Lord Buckley. I wanted to combine old school Boogie Woogie piano with highbrow/lowbrow hijinks and bring good music and good times to the club scene

Since my first solo club gig in August of 1979, I've traveled the world Rockin' the Ivories and (hopefully) leaving them rolling in the aisles.
I recently recorded my tenth national release featuring the legendary Nighthawks, and begun touring again. Over the years I have opened for such diverse acts as:
Bob Dylan
ZZ Top
The Beach Boys
Boz Scaggs (ten times)
The B 52's
Bob Weir
Dr. John (6 times)
Sinbad
Taj Mahal
and many more!

Upcoming Events
Venue
Date
BirdRock Taco Shack
Bradenton
Dave's Birthday Celebration!
Fri, June 30
7:00pm - 10:00pm




Previous Events