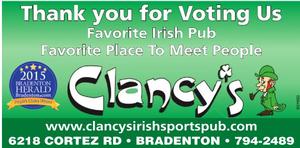 Clancy's Irish Sports Pub and Grill
6218 Cortez Road West
Bradenton, FL 34210
(941) 794-2489
Map View:
Click here
Clancy's Irish Sports Pub and Grill is Bradenton's biggest and best tiki bar and your hot spot for live music, karaoke, cocktails and more! Our one of a kind open-air tiki bar and tavern is home to numerous Bradenton-area events, including our Monday through Friday Happy Hour Special from 4-7pm, Wednesday and Thursday karaoke, and NFL Sundays in front of our large-screen TV's. MLB and College games!!!!!
When it comes to food, we match quality with quantity - our portions are HUGE! Try the Manatee County area's best Reuben, our mega-sized calzones!
Kickback and unwind with a cold cocktail, catch up with an old friend, or make a new one. We're fun, relaxed, and casual, and we treat our customers like family. Can't beat that!
Clancy's Bar is open daily from 11 am to 2 am. We are conveniently located on Cortez Road, just minutes from Anna Maria, Bradenton, and Holmes Beaches, and a short drive from Ellenton and Palmetto. Stop by and see why we're Bradenton's top-rated sports bar and Irish pub!

Upcoming Events
Artist
Date
KJB (Karen & Jimmy Band)
Classic Rock, Funk, R&B/Soul
KJB (The Karen and Jimmy Band)
Fri, December 8
6:00pm - 10:00pm
Concrete Edgar
Classic Rock, Southern Rock
Rock Clancy's
Sat, December 9
5:00pm - 9:00pm
Memphis Rub Band
Blues, Funk, R&B/Soul, Rockin Blues
Memphis Rub Band at Clancy's Friki Tiki
Fri, December 15
6:00pm - 10:00pm
Bradentucky Death Rays
Alternative, Rock
Bradentucky Death Rays
Fri, December 22
6:00pm - 10:00pm
Dr Dave Band
Bluegrass, Classic Rock, Country, Southern Rock
Sat, December 23
5:00pm - 9:00pm
Aurora 5
Classic Rock, Pop, Rock
The Ultimate Rock Finale: Aurora 5's End of Year Bash!!
Fri, December 29
6:00pm - 10:00pm
Jack'D Up
Classic Rock, High Energy Dance, Pop, Rock
Clancy's gets Jack'D UP!
Sat, December 30
5:00pm - 9:00pm
$0
Julia Brown
Acoustic, Blues, Country, Rock
Jack'd Up Band
Sat, December 30
5:00pm - 9:00pm
Dr Dave Band
Bluegrass, Classic Rock, Country, Southern Rock
Shamrock Shiver Charity Event
Mon, January 1
1:00pm - 3:00pm
Aurora 5
Classic Rock, Pop, Rock
Aurora 5's Rock Extravaganza takes over Clancy's.
Fri, January 5
6:00pm - 10:00pm
Jack'D Up
Classic Rock, High Energy Dance, Pop, Rock
Clancy's Gets Jack'D Up!
Sat, January 6
5:00pm - 9:00pm
$0
Julia Brown
Acoustic, Blues, Country, Rock
Jack'd Up Band
Sat, January 6
5:00pm - 9:00pm
Bradentucky Death Rays
Alternative, Rock
BDR rocks The Freaki Tiki
Fri, January 26
6:00pm - 10:00pm
Dr Dave Band
Bluegrass, Classic Rock, Country, Southern Rock
Sat, January 27
5:00pm - 9:00pm
Aurora 5
Classic Rock, Pop, Rock
Experience Aurora 5's High Octane Musical Journey
Fri, February 2
6:00pm - 10:00pm
Jack'D Up
Classic Rock, High Energy Dance, Pop, Rock
Clancy's Gets Jack'D Up
Sat, February 10
5:00pm - 9:00pm
$0
Kettle Of Fish
Rock, Rockin Blues, Southern Rock
Fri, February 16
6:00pm - 10:00pm
Charles Parker Band
Beatles, Classic Rock, Country, Rock
CP Band
Sat, February 17
5:00pm - 9:00pm
Josh Quinn
Acoustic, Blues, Classic Rock, Rock
Josh Quinn Trio
Sat, February 24
5:00pm - 9:00pm
Aurora 5
Classic Rock, Pop, Rock
Unleash Your Inner Rocker: Aurora 5's Epic Rock and Roll Party
Fri, March 1
6:00pm - 10:00pm
Aurora 5
Classic Rock, Pop, Rock
Aurora 5: Where Rock and Electricity Collide for an Unforgettable Show!
Fri, March 1
6:00pm - 10:00pm
Bradentucky Death Rays
Alternative, Rock
BDR at Clancy's!
Fri, March 8
6:00pm - 10:00pm
Jack'D Up
Classic Rock, High Energy Dance, Pop, Rock
Clancy's Gets Jack'D Up!
Sat, March 9
5:00pm - 9:00pm
$0
Kettle Of Fish
Rock, Rockin Blues, Southern Rock
Fri, March 29
6:00pm - 10:00pm
Aurora 5
Classic Rock, Pop, Rock
Come see Aurora 5. An unforgettable Live Experience
Fri, April 5
6:00pm - 10:00pm
Jack'D Up
Classic Rock, High Energy Dance, Pop, Rock
Clancy's gets Jack'D Up!
Sat, April 6
5:00pm - 9:00pm
$0
Bradentucky Death Rays
Alternative, Rock
Bradentucky Death Rays!
Fri, April 26
6:00pm - 10:00pm
Charles Parker Band
Beatles, Classic Rock, Country, Rock
CP Band
Sat, April 27
5:00pm - 9:00pm
Aurora 5
Classic Rock, Pop, Rock
If you know? You Know! Aurora 5 Brings it!
Fri, May 3
6:00pm - 10:00pm
Jack'D Up
Classic Rock, High Energy Dance, Pop, Rock
Clancy's gets Jack'D Up!
Sat, May 4
5:00pm - 9:00pm
$0
Kettle Of Fish
Rock, Rockin Blues, Southern Rock
Fri, May 10
6:00pm - 10:00pm
Bradentucky Death Rays
Alternative, Rock
Bradentucky Death Rays
Fri, May 31
6:00pm - 10:00pm
Jack'D Up
Classic Rock, High Energy Dance, Pop, Rock
Clancy's gets Jack'D Up! K Rock's birthday bash. Join us for a celebration
Sat, June 1
5:00pm - 9:00pm
$0
Charles Parker Band
Beatles, Classic Rock, Country, Rock
CP Band
Sat, June 22
5:00pm - 9:00pm
Bradentucky Death Rays
Alternative, Rock
Bradentucky Death Rays!
Sat, June 29
6:00pm - 10:00pm
Jack'D Up
Classic Rock, High Energy Dance, Pop, Rock
Clancy's gets Jack'D Up!
Sat, July 6
5:00pm - 9:00pm
$0
Kettle Of Fish
Rock, Rockin Blues, Southern Rock
Fri, July 12
6:00pm - 10:00pm
Charles Parker Band
Beatles, Classic Rock, Country, Rock
CP Band
Fri, August 9
6:00pm - 10:00pm
Jack'D Up
Classic Rock, High Energy Dance, Pop, Rock
Clancy's gets Jack'D Up!
Sat, August 10
5:00pm - 9:00pm
$0
Aurora 5
Classic Rock, Pop, Rock
First show back from Vacation and we cant wait to Unleash the Beast!
Fri, September 6
6:00pm - 10:00pm
Bradentucky Death Rays
Alternative, Rock
Bradentucky Death Rays!!
Fri, September 6
6:00pm - 10:00pm
Jack'D Up
Classic Rock, High Energy Dance, Pop, Rock
Clancy's gets Jack'D Up
Sat, September 14
5:00pm - 9:00pm
$0
Aurora 5
Classic Rock, Pop, Rock
6 O'clock its time to ROCK!
Fri, October 4
6:00pm - 10:00pm
Bradentucky Death Rays
Alternative, Rock
Bradentucky Death Rays
Fri, October 4
6:00pm - 10:00pm
Jack'D Up
Classic Rock, High Energy Dance, Pop, Rock
Clancy's gets Jack'D Up!
Sat, October 5
5:00pm - 9:00pm
$0
Charles Parker Band
Beatles, Classic Rock, Country, Rock
CP Band
Fri, October 11
6:00pm - 10:00pm
Aurora 5
Classic Rock, Pop, Rock
You come for a cold beer and some good food. You stay for an electrifying Rock and Roll Experience!
Fri, November 1
6:00pm - 10:00pm
Bradentucky Death Rays
Alternative, Rock
Bradentucky Death Rays!
Fri, November 1
6:00pm - 10:00pm
Jack'D Up
Classic Rock, High Energy Dance, Pop, Rock
Clancy's gets Jack'D Up!
Sat, November 2
5:00pm - 9:00pm
$0
Aurora 5
Classic Rock, Pop, Rock
A straight up, Down in the Dirt, Rock and Roll Experience!
Fri, December 6
6:00pm - 10:00pm
Jack'D Up
Classic Rock, High Energy Dance, Pop, Rock
Clancy's gets Jack'D Up!
Sat, December 7
5:00pm - 9:00pm
$0
Bradentucky Death Rays
Alternative, Rock
Bradentucky Death Rays!!
Fri, December 13
6:00pm - 10:00pm
Charles Parker Band
Beatles, Classic Rock, Country, Rock
CP Band
Sat, December 21
5:00pm - 9:00pm



Past Events
Artist
Date
Charles Parker Band
Beatles, Classic Rock, Country, Rock
December 1, 2023
6:00pm - 10:00pm
Dr Dave Band
Bluegrass, Classic Rock, Country, Southern Rock
November 25, 2023
5:00pm - 9:00pm
Bradentucky Death Rays
Alternative, Rock
Bradentucky Death Rays
November 24, 2023
6:00pm - 10:00pm
Julia Brown
Acoustic, Blues, Country, Rock
Jack'd Up Band
November 18, 2023
5:00pm - 9:00pm
Jack'D Up
Classic Rock, High Energy Dance, Pop, Rock
Clancy's gets Jack'D Up!
November 18, 2023
5:00pm - 9:00pm
$0