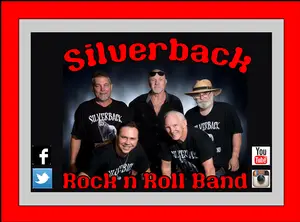 Silverback Rock N Roll Band
Beatles, Classic Rock, High Energy Dance, Rock, Rockin Blues, Southern Rock


Flashback to your Classic Rock favorites from the 60's and 70's! Silverback Rock n Roll Band has their fans on the dance floor all night long at retirement venues, community events, private parties, and your favorite clubs and restaurants throughout Tampa Bay.

Contact Clint Wright at (813) 515-8516, for the Band's Promoter, Kathy McGuire of Events by KathySings4u at (727) 458-0940, for booking inquiries.

Upcoming Events


Sat, May 26, 2018
7:00 to 10:30 pm $mp
Largo

Fri, June 8, 2018
8 pm to Midnight
Land O Lakes

Sat, June 9, 2018
8 pm to Midnight
New Port Richey

Fri, June 29, 2018
10:00 pm to 1 am
Dunedin

Sat, June 30, 2018
7:00 to 10:30 pm
Largo

Fri, July 20, 2018
8 pm to Midnight
Lutz

Sat, July 28, 2018
7 to 11 pm
Hudson




Previous Events


Sat, May 19, 2018
8 pm to Midnight
New Port Richey

Sat, May 12, 2018
7:00 to 10:30 pm $no
Largo

Sat, May 5, 2018
6:00 to 8:00 pm
Tampa

Fri, May 4, 2018
7:30 to 11:30 pm
Palm Harbor

Sat, April 21, 2018
7:00 to 10:30 pm
Largo