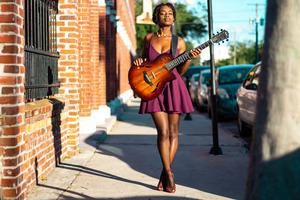 Kimi Tortuga
Acoustic, Pop, Reggae, Rock
Photo by Don Scott.

Kimi is an international singer-songwriter residing in the greater Tampa Bay Area (Florida, USA). She began her musical journey accompanied by the piano at 5 years old, after which she ventured out to the clarinet and other wind instruments at 12. After having left the piano for a decade, Kimi taught herself to play the ukulele and guitar, and finally returned to the original muse: the piano.

She has built her career around live performance and instruction, having learned from some of the greatest minds in the area.

Many thanks to Mr. Snyder, Mr. Williamson, Ms. Padilla, Ms. Coggins, among many more. Heartfelt gratitude as well to the many other great artists and spirits met along the way.

Upcoming Events
There are no upcoming events scheduled.



Previous Events
Venue
Date
The Wharf at Sunset Walk
Kissimmee
Brunch with Kimi Tortuga at The Wharf at Sunset Walk
April 29, 2023
11:00am - 3:00pm
$Free
Keel and Curley Winery
Plant City
Kimi Tortuga Sings at Keel + Curley Winery
April 28, 2023
4:00pm - 8:00pm
$Free
Waterside Place at Lakewood Ranch
Sarasota
Kimi Tortuga Returns to Waterside Place at Lakewood Ranch
April 15, 2023
6:00pm - 9:00pm
$Free
Cabanas Coastal Grill
Clearwater Beach
Kimi Tortuga Performs at Cabanas Coastal Grill
April 14, 2023
5:00pm - 9:00pm
$Free
The Wharf at Sunset Walk
Kissimmee
Easter Brunch with Kimi Tortuga at The Wharf at Sunset Walk
April 9, 2023
11:00am - 3:00pm
$Free