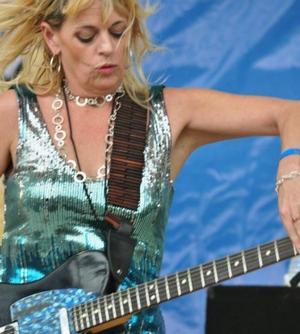 Skyla Burrell
Blues

Vizztone Recording Artists, the Skyla Burrell Band, are known for their passionate and high energy live shows.
Skyla Burrell was born in Los Angeles and raised in Orange County, California. Skyla formed her first band at the age of 13 and has been a working musician ever since.
The band released their debut studio CD, "Working Girl Blues" in 2004, containing 12 original songs. From that very 1st CD, Mark Tomlinson received an Honorable Mention for his track "Bad Dream" in the 14th Annual Billboard Songwriting Contest. In 2006 the band recorded and toured in Europe, and released their sophomore effort, "Livin' Day to Day". The band played 240 shows in 2006 and secured the #1 Top Booked Band slot on Sonicbids.

The band kept up their busy schedule (between 2006 and 2007 playing a total of 465 shows) and expanding their touring radius. In 2008 the Skyla Burrell Band released their third CD of all original material, "Tough Luck" . The band sold a track from "Tough Luck" to the producers of the CBS/CBC drama "The Bridge", which aired over the spring in Canada and was the #1 rated drama, and made its US debut in the late summer.

Upcoming Events
Venue
Date
Blue Rooster
Sarasota
Fri, October 9
8 to 11 pm
$10



Previous Events