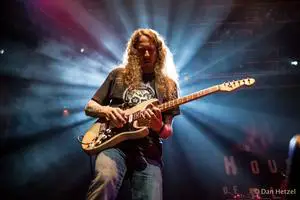 Brian Leneschmidt
Brian Leneschmidt has played as a full-time musician solo and with bands for over sixteen years. He has recorded six full length albums and has achieved national radio support as well as other countries such as Argentina, France, India and many more. The CD, "Passing By," was released in 2009 and is an acoustic album of eleven songs. The latest "Stepping Out," is a 2012 release of electric blues-rock originals. He was recently the featured artist of the week on Music Tampa Bay.

Over the years Brian's bands have played at events such as "Hawg Fest" at Red Rocks Amphitheater featuring Lynyrd Skynyrd, have opened for bands such as the Atlanta Rhythm Section, Molly Hatchet, Charlie Musselwhite, Curtis Salgado, Lukas Nelson and Tinsley Ellis. He was showcased in Salt Lake City, Utah for the Australian media the closing night of the 2002 Winter Olympics. Other highlights include shows in Sturgis SD bike week, Molenbeersel, Belgium, Blues Festival performances, Jannus Live in St. Petersburg, Skippers Smokehouse in Tampa, Hard Rock Cafe Miami, and the House of Blues in New Orleans and Orlando.

Karyn and the Brian Leneschmidt Band are a Tampa Bay Blues-Rock band mixing Blues, Rock and Funk. Karyn and the BLB perform high energy shows throughout the Bay area and beyond in Florida. The band formed as a trio in August of 2012, not long after Brian moved to St. Petersburg, FL. After two years of playing shows and gaining fans they teamed up with vocal powerhouse Karyn Denham, building even more of a presence in the area with band and acoustic duo shows. With Brian (Guitar, Vocals) Karyn (Vocals) Jason Lewis (Bass) and Dave Dube (Drums) the band is a fun and dynamic act with a real passion for music. Shows feature original music and covers with their own twist, a must see! The band just released thier new album "High Water Rising" in the fall of 2016.

Upcoming Events


Wed, November 14, 2018
5pm
St. Petersburg

Thu, November 15, 2018
Dunedin

Fri, November 16, 2018
7pm
Dunedin

Sat, November 17, 2018
Cape Coral

Sun, November 18, 2018
3pm
Oldsmar

Wed, November 21, 2018
Tarpon Springs

Fri, November 23, 2018
10pm
Dunedin

Sun, November 25, 2018
Dunedin

Wed, November 28, 2018
5pm
St. Petersburg

Thu, November 29, 2018
Palm Harbor

Fri, November 30, 2018
8pm
Palm Harbor




Previous Events


Sun, November 11, 2018
8pm w/Shemekia Copeland $$35-$55
Tampa

Sat, November 10, 2018
6:00pm
Madeira Beach

Fri, November 9, 2018
7:30pm
Dunedin

Wed, November 7, 2018
5pm
St. Petersburg

Mon, November 5, 2018
5pm
Treasure Island