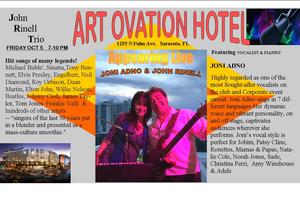 John Rinell
60's Beach Rock, Acoustic, Beatles, Bluegrass
Impersonation not as satire but as a breathtaking achievement" -- singers of the last 50 years put in a blender and presented as a mass-culture smoothie." John Rinell. He's the Sarasota resident headliner who jumped from Westbury Music Fair on L.I. where he spent years in a showroom opening up for household names, to the Sun coast's top Restaurants & newest night clubs. Though the Music scene morphs repeatedly, John Rinell remains a family-friendly success.
Hit songs of many legends! Michael Buble', Tony Bennett, Elvis Presley, Engelbert, Neil Diamond, Roy Orbison, Dean Martin, Elton John & Frankie Valli all beautifully performed by Solid Gold Entertainer John Rinell!

Singer John Rinell is a native of Hoboken, NJ and has been musically gifted since early childhood.
He became a headliner all across the New York and Long Island area including the house account at the luxurious Gurney's Inn located in Montauk Point. John made many friends along the way including the then Mayor of New York City, the Honorable Rudolph W. Guillani. A career highlight, John performed many concerts at the fabulous Westbury Music Fair as a solid opener for national headline acts.
Frank Sinatra is one of John's biggest idols. Being from Hoboken, the Sinatra legacy was as common in the Rinell household as pasta on Sunday afternoon. Growing up in the same city and walking the same streets as his hero, John has always had a natural feeling for Sinatra's music, as well as a love for it, and a great pride in their common hometown.
Claimed the "Voice of Solid Gold" John is proud to carry on the Hoboken tradition while maintaining a legacy of excellent entertainment. John can be found crooning the crowd at several grand opening events and restaurants in Sarasota ,Weddings at the Sandbar and Beachhouse Restaurants on Anna Maria Island. You can contact John Rinell at 941-722-8843. John Rinell also has the ability to accommodate requests for additional musicians, and performs with up to 5 pieces with his group "John Rinell & Showcase"
Live Tropical Steel Drum
and high energy DJ/MC with Special effects lighting also available.

Upcoming Events



Previous Events