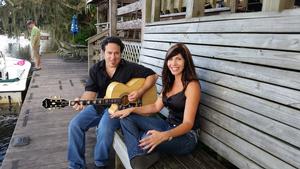 Wheelhouse
60's Beach Rock, Classic Rock, Contemporary, Country

Out of Chicago, comes Entertainer, vocalist and multi-instrumentalist, Tony Check. Since the age of 15, Tony has played thousands of shows for audiences throughout the United States and Caribbean Islands. He has also received airplay on commercial and college radio stations. This wide and varied experience translates into a captivating performance whether Tony is playing with a live band, or on his own with back track accompaniment.

Cristi Vale is a touring national music artist with great songs and a wide repertoire of music to play any event or venue. Cristi has toured the United States and opened for an impressive array of Artists including Dwight Yoakum, Charlie Daniels, and Sara Evans! Plus she has played notable venues such as Jannus Landing, Largo Cultural Center, St. Pete Times Forums events stage, and the massive Charliepalooza Festival in Tampa. Cristi spent quite a bit of time in Nashville, recording, acting in a national CMT commercial, and performing shows.

Upcoming Events
There are no upcoming events scheduled.



Previous Events