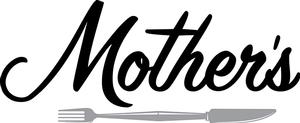 Mother's
12227 W. Linebaugh Ave.
Tampa, FL 33626
(813) 814-1533
Map View:
Click here
Fresh flavors and seasonal cuisine. Simply-prepared food and energetic family-friendly atmosphere maintaining the highest standards.

Creative and delicious meals prepared with food from local farmers and food purveyors. The bar presents a drink menu of hand-crafted, custom cocktails prepared with the finest ingredients.

Live music on Wednesday, Friday and Saturday nights. There is a daily late-night menu.

Upcoming Events
Artist
Date
Pickin' Rick & His One Man Band
Acoustic, Classic Rock, Comedy, Country
Wed, March 29
7:00pm - 10:00pm
Island Avenue
Alternative, Blues, Folk, Rock
Island Avenue band
Sat, April 15
7:00pm - 11:00pm
Liz Pennock & Dr. Blues
Blues
Sat, April 29
7:00pm - 10:00pm
$0
Jeriko Turnpike
Rock
Fri, May 12
8:00pm - 11:00pm
Jeriko Turnpike
Rock
Sat, June 3
8:00pm - 11:00pm
Jeriko Turnpike
Rock
Fri, August 18
8:00pm - 11:00pm
Jeriko Turnpike
Rock
Fri, September 29
8:00pm - 11:00pm
Jeriko Turnpike
Rock
Fri, November 10
8:00pm - 11:00pm



Past Events
Artist
Date
Island Avenue
Alternative, Blues, Folk, Rock
Island Avenue band
March 25, 2023
7:00pm - 11:00pm
Liz Pennock & Dr. Blues
Blues
March 18, 2023
7:00pm - 10:00pm
$0
Pickin' Rick & His One Man Band
Acoustic, Classic Rock, Comedy, Country
March 7, 2023
6:00pm - 9:00pm
Pickin' Rick & His One Man Band
Acoustic, Classic Rock, Comedy, Country
February 25, 2023
7:00pm - 10:00pm
Jeriko Turnpike
Rock
February 10, 2023
8:00pm - 11:00pm