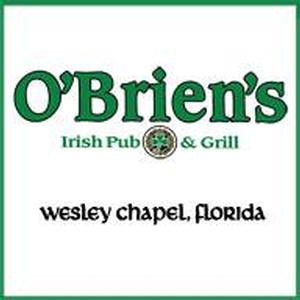 O'Briens Irish Pub & Grill Wesley Chapel
5429 Village Market
Wesley Chapel, FL 33544
(813) 973-9988
Map View:
Click here
O'Brien's Wesley Chapel was established in March 2016, formerly City Grill. Under new ownership, it is a great place to eat and meet with friends.

O'Brien's is a place where everyone feels at home and embraces the Irish spirit. We invite you to taste the Irish Pub culture of hearty food and drink, great live music, friendship, and lots of good 'craic'. In Ireland, a pub is where you meet friends and neighbors and you're greeted by name when you walk in the door…

We hope you join us at Wesley Chapel O'Brien's for great food and your next outing with friends.

Upcoming Events
Artist
Date
Double Barrel Band
Country, Rock, Southern Rock
Full Band
Fri, October 6
8:00pm - 12:00am
$0
John Hindman & The Mustang Mafia
Classic Rock, Country, Pop, Rock
Fri, October 20
8:00pm - 12:00am
CopperWing Band
Classic Rock, Country, Reggae, Rockin Blues
Copperwing At O'Briens WC
Sat, October 28
8:00am - 12:00am
Fred Chandler Music
Acoustic, Classic Rock, Pop, Rock
4X - Full Band
Fri, November 3
8:00pm - 12:00am
Johnny Blevins Band
Country, Pop, Rock, Southern Rock
Johnny Blevins Band @ Obrien's Wesley Chapel
Sat, November 25
8:00pm - 12:00am
$0
John Hindman & The Mustang Mafia
Classic Rock, Country, Pop, Rock
Fri, December 1
8:00pm - 12:00am
Lorelei on the Rocks
Blues
Fri, December 15
8:00pm - 12:00am
$No
Lisa Kay & The GoldTop Band
Classic Rock, High Energy Dance, Latin, R&B/Soul
Fri, February 2
8:00pm - 12:00am
Lorelei on the Rocks
Blues
Fri, February 9
8:00pm - 12:00am
$No
Lorelei on the Rocks
Blues
Fri, May 10
8:00pm - 12:00am
$No
Lisa Kay & The GoldTop Band
Classic Rock, High Energy Dance, Latin, R&B/Soul
Fri, May 17
8:00pm - 12:00am
Lorelei on the Rocks
Blues
Fri, August 2
8:00pm - 12:00am
$No
Lisa Kay & The GoldTop Band
Classic Rock, High Energy Dance, Latin, R&B/Soul
Fri, August 9
8:00pm - 12:00am
Lorelei on the Rocks
Blues
Fri, November 22
8:00pm - 12:00am
$No



Past Events
Artist
Date
Devan Ashline

Live Solo
September 30, 2023
8:00pm - 12:00am
$0
James Galione
Blues, Rockin Blues
Full Band
September 29, 2023
8:00pm - 12:00am
$0
The Daniel Sprouse Band

FULL BAND
September 22, 2023
8:00pm - 12:00am
$0
Lorelei on the Rocks
Blues
September 15, 2023
8:00pm - 12:00am
$No
J2 Duo
Acoustic, Beatles, Blues, Rock
LIVE DUO
September 9, 2023
8:00pm - 12:00am
$0