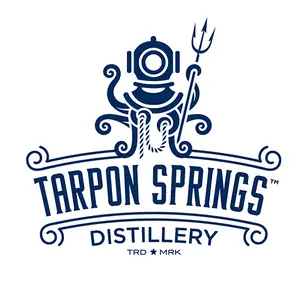 Tarpon Springs Distillery
605 North Pinellas Avenue
Tarpon Springs, FL 34689
(727) 940-2045
Map View:
Click here
The story of Tarpon Springs Distillery is just beginning. My name is Barry Butler. My lovely wife, Lisa, and I share a passion for craft whiskey. Over the years we have visited dozens of distilleries around the country. We really enjoy talking to the distillers and sampling their products. Many times we have talked about starting our own craft distillery based on some unique recipes I might know a thing or two about. After years of talking, we finally decided to go for it.
We renovated a historic sponge warehouse in Tarpon Springs, FL, just a couple of blocks from the world famous Sponge Docks. I am now making liquor in our 500-gallon still (Amazing Grace) with my production team, manager Jason Beaulieu and our trusty still hands Matt Danskin and Evan Roarke.
Lisa and Jessi Rogers, our general manager, are in charge of the tasting room, the music beach, and special events. As of December 21st, 2019, we are offering tours, tastings and a free craft cocktail when you visit us. Our initial offerings include Gramling Woods Moonshine, Papou's Ouzo and Anclote Gin. In 2020, we will be launching several specialty gins, a smoked rye whiskey and a unique coffee based spirit. From there, we are limited only by our imagination.
Lisa and I invite you to be a part of our excellent adventure.

Upcoming Events
Artist
Date
Jimmy Griswold
Blues, Classic Rock, Funk, Rockin Blues
Solo
Fri, September 22
7:00pm - 10:00pm
BLU
Acoustic, Classic Rock, Folk, Pop
Sun, September 24
2:30pm - 5:30pm
LC Williams and the Driver
Blues
Sat, October 7
7:00pm - 10:00pm
John Hindman & The Mustang Mafia
Classic Rock, Country, Pop, Rock
Sat, October 14
7:00pm - 11:00pm
$0
Crackerbilly Band
Americana, Bluegrass, Country, Folk
Crackerbillys @ Tarpon Springs Distillery
Sat, October 28
7:00am - 10:00am
Trey Wanvig
Blues, Rockin Blues
Trey Wanvig Band
Sat, November 4
7:00pm - 10:00pm
Lisa Kay & The GoldTop Band
Classic Rock, High Energy Dance, Latin, R&B/Soul
Fri, December 1
7:00pm - 10:00pm
John Hindman & The Mustang Mafia
Classic Rock, Country, Pop, Rock
Fri, December 22
7:00pm - 10:00pm
Autumn June
Acoustic, Classic Rock, Country, Folk
Fri, January 19
7:00pm - 10:00pm
Ruby Skye
Acoustic, Country, Pop, Rock
Debut at TS Distillery!
Fri, February 9
7:00am - 10:00pm



Past Events
Artist
Date
NightBliss Music
Alternative, Contemporary, Country, Easy Listening
NightBliss Music RETURNS to Tarpon Springs Distillery - a really great place to check out!!!!
September 16, 2023
6:00pm - 9:00pm
Rockin' Rob
Acoustic, Classic Rock, Pop, Rockin Blues
Rockin' Rob @ Tarpon Springs Distillery
August 26, 2023
7:00pm - 10:00pm
Brian Leneschmidt
Acoustic, Blues, Rock, Rockin Blues
August 25, 2023
7:00pm - 10:00pm
Tommy Keys
Americana, Blues, Indie, Jazz
Tommy Keys Solo Blues Piano
August 18, 2023
7:00pm - 10:00pm
Gene Field
Acoustic
August 13, 2023
2:30pm - 5:30pm