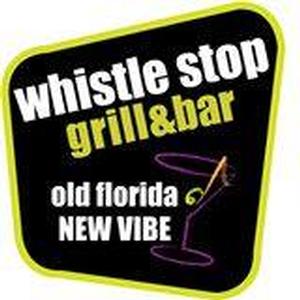 Whistle Stop Grill & Bar
915 Main Street
Safety Harbor, FL 34695
(727) 726-1956
Map View:
Click here
Known as a Safety Harbor Landmark
the Whistle Stop Grill & Bar has an Old Florida atmosphere offering "real good food"
Outdoor dining under the Oak trees heated on cold days Offering -fried green tomatoes so many ways- buffalo cauliflower bite-fresh grouper-awesome burgers including grass fed beef &house made veggie burgers. Wonderful Salads, Wraps, Chicken, Ahi Tuna..IT's ALL GOOD! 18 Craft & Local Beers on Tap -Hip Sips at Our Bar Happy Hour 4-7 Everyday
Martini Mondays & Thirsty Tuesdays 1/2 price bottles of winne on Thursdays Music 3 nights a week.

Upcoming Events
Artist
Date
Tampabay Fingerstyle Guitar Guild
Acoustic, Beatles, Easy Listening, Jazz
Fingerstyle Guitar Players Play our favorite Christmas Music
Thu, December 21
6:00pm - 9:00pm
$Free
McLean Mannix
Acoustic, Alternative, Beatles, Classic Rock
Fri, December 22
7:00pm - 10:00pm
Tampa Bay Ukulele Society
Acoustic, Bluegrass, Country, Rock
Thu, December 28
6:00pm - 9:00pm
Tampabay Fingerstyle Guitar Guild
Acoustic, Beatles, Easy Listening, Jazz
Fingerstyle Guitarist
Thu, January 18
6:00pm - 9:00pm
$Free
Tampa Bay Ukulele Society
Acoustic, Bluegrass, Country, Rock
Thu, January 25
6:00pm - 9:00pm
Tampabay Fingerstyle Guitar Guild
Acoustic, Beatles, Easy Listening, Jazz
Fingerstyle Guitar Soloist
Thu, February 15
6:00pm - 9:00pm
$Free
The Sparkplugs
Americana, Rockabilly, Rockin Blues
Sparkplugs at The Whistle Stop
Sat, March 2
7:00pm - 10:00pm
Tampabay Fingerstyle Guitar Guild
Acoustic, Beatles, Easy Listening, Jazz
Instrumental Guitar Players
Thu, March 21
6:00pm - 9:00pm
$Free
Tampabay Fingerstyle Guitar Guild
Acoustic, Beatles, Easy Listening, Jazz
Acoustic Fingerstyler Guitarists
Thu, April 18
6:00pm - 9:00pm
$Free
Tampabay Fingerstyle Guitar Guild
Acoustic, Beatles, Easy Listening, Jazz
Fingerstyle Guitar Instrumentalists
Thu, May 16
6:00pm - 9:00pm
$Free



Past Events
Artist
Date
Tampa Bay Ukulele Society
Acoustic, Bluegrass, Country, Rock
November 23, 2023
6:00pm - 9:00pm
Tampabay Fingerstyle Guitar Guild
Acoustic, Beatles, Easy Listening, Jazz
Fingerstyle Guitar Players
November 16, 2023
6:00pm - 9:00pm
$Free
McLean Mannix
Acoustic, Alternative, Beatles, Classic Rock
November 11, 2023
7:00pm - 10:00pm
Tampa Bay Ukulele Society
Acoustic, Bluegrass, Country, Rock
October 26, 2023
6:00pm - 9:00pm
Tampabay Fingerstyle Guitar Guild
Acoustic, Beatles, Easy Listening, Jazz
Fingerstyle Solo Guitar Players
October 19, 2023
6:00pm - 9:00pm
$Free