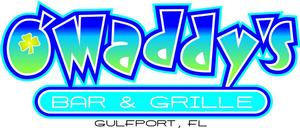 O'Maddy's
5405 Shore Blvd South
Gulfport, FL 33707
727-323-8643
Map View:
Click here
We are open for lunch and dinner with daily specials and fabulous appetizers. Karaoke, Live music and an exciting crowd, ensure you will have the time of your life at O' Maddy's. Stetson students welcome! Release the tension from your studies!

Chef Wade Says..."Come for the food, stay for the fun of it all."

Making daily specials for lunch and dinner makes sure that I get to use the best, freshest, seasonal ingredients available.

Upcoming Events








Past Events


Fri, January 17, 2020
5-9pm MORE is MORE/ 50k ILSP Party!
Classic Rock