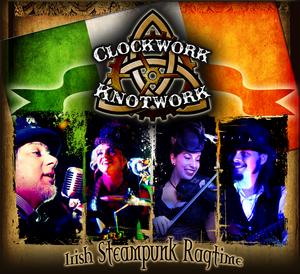 Clockwork Knotwork, Irish/American Steampunk Band
Americana, Bluegrass, Folk, Indie, Swing


Irish/American Steampunk music! Turn-of-the-Century, Ragtime & Early Jazz with a Celtic & Bluegrass twist!
Come and enjoy some fun, trouble makin' music! A highly theatrical, musical show using intense violin, sexy percussions, bass guitar, blarin' bagpipes and good ol' fashion banjo & mandolin. Three-part harmonies add to the story providing a musical "movie in your mind" experience. Dr. O's one-of-a-kind, Electro Steampipes (steampunk bagpipes), brings the house down with steam-blasting horns! Don't Miss it!

Upcoming Events
There are no upcoming events scheduled.



Previous Events


Fri, May 26, 2017
8-11pm $0
Madeira Beach

Sat, May 13, 2017
Evening $0
Palm Harbor

Fri, May 12, 2017
8-11pm $0
Madeira Beach

Sat, April 22, 2017
6-10pm $0
Holmes Beach

Fri, April 14, 2017
Evening $0
Palm Harbor