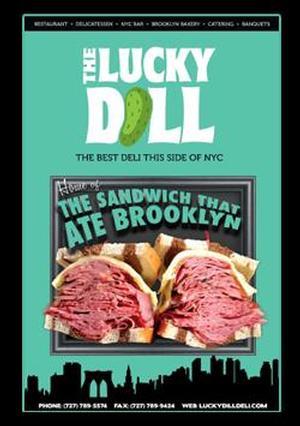 Lucky Dill Deli
33180 U.S. Hwy. 19 N.
Palm Harbor, FL 34684
(727) 789-5574
Map View:
Click here
The Lucky Dill in Palm Harbor is an outstanding NYC-style deli that encompasses true New York flavor, style and atmosphere; a place where you can grab your favorite delicatessen sandwich, a refreshing drink and a sweet treat baked fresh from the Brooklyn Bakery. The Lucky Dill now sports a fabulous New York-style bar that is connected to the Tribeca Lounge. The NYC Bar has a great selection of cocktail favorites and craft beers that will quench your thirst. Have a drink, relax and enjoy live entertainment seven days a week.

Upcoming Events


Sat, May 26, 2018
6:00 to 10:00pm
Classic Rock


Sat, June 2, 2018
6:00 to 10:00pm
Classic Rock





Past Events



Sat, May 19, 2018
6:00 to 10:00pm
Classic Rock



Fri, May 11, 2018
6:00 to 10:00pm
Classic Rock