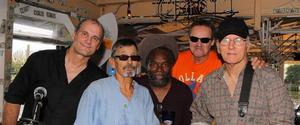 Instigators
Reggae


The INSTIGATORS are: Marc Mosby-vocals, Richy Kicklighter-guitar, Richie Benjamin-drums, Brandon Sommers-keyboards & Burt Englesman-bass.
Biography
The Instigators were formed in 1982 becoming the first Reggae band in the area. They slowly built an eclectic following of fans looking for a new sound and eventually caused a minor sensation becoming one of Southwest Florida?s most popular bands. In 1985 they recorded their album Between the Worlds and while touring the south eastern part of the country they were soon called upon to open shows for some of Reggae?s biggest names including Jimmy Cliff, Third World, King Sunny Ade, and Steel Pulse.
Description
Reggae,Blues and world music band playing original music and select cover songs.

Upcoming Events
There are no upcoming events scheduled.



Previous Events


Sat, May 5, 2018
2-5pm $No
Siesta Key

Fri, April 6, 2018
5-7:30pm HAPPY HOUR $No
Sarasota

Fri, March 2, 2018
5-7:30 $no
Sarasota

Sat, September 2, 2017
2-5pm $No
Siesta Key

Sun, August 27, 2017
4pm-8 $No
Sarasota