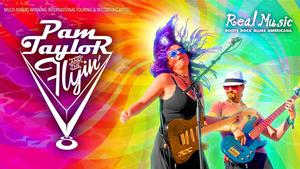 Pam Taylor and the Flyin' V's
Blues, Rockin Blues

Singer /Songwriter/Guitar player from South Carolina. Pam Taylor is a 3rd generation musician. Her grandfather is a singer/guitar player and her father also plays the saxophone. Currently she and her father share the love of music and are taking the local music scene by storm. They have teamed up with some of the most dedicated and talented musicians in the South East to form the Pam Taylor Band. This has been a life-long dream of Taylor who has shared the stage with such artists as Los Lobos, JP Soars, Vasti Jackson, Lionel Young, Tommy Castro, Nick Moss, Jason Ricci, Deanna Bogart, Jimmy Carpenter, Elvin Bishop and Deborah Coleman.

Sax: Mike Taylor started playing the sax in the school band at age 13, by the age of 14 he was playing professionally in the top 40 R&B band, The Ardells. He is influenced by Jr. Walker, King Curtis, and Boots Randolph among many others. After about 10 years of touring he called it quits to focus on family and over the last five he has gotten back to his roots, the blues, and is tearing up the stage alongside his daughter.

Upcoming Events
There are no upcoming events scheduled.



Previous Events