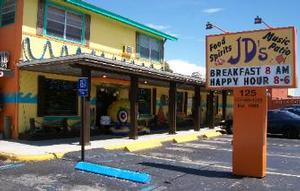 JD's Restaurant & Bar
125 Gulf Blvd
Indian Rocks Beach, FL 33785
(727) 595-1320
Map View:
Click here
JD's has been family owned and operated since 1985. The
Downing family prides itself in a friendly, family atmosphere as
well as the freshness of each and every meal. What better way to
experience casual Florida dining than to pair it with live
entertainment ...With exceptional local artists performing at our
piano bar and on the back patio, you can be assured that our food
won't be the only thing you'll be talking about after you leave.

Upcoming Events
Artist
Date
Harmony Row (Variety Duo)
Classic Rock, Pop, R&B/Soul, Rock
Harmony Row Acoustic and Dance 60s-90s
Sun, June 11
1:00pm - 5:00pm
$0



Past Events
Artist
Date
Harmony Row (Variety Duo)
Classic Rock, Pop, R&B/Soul, Rock
HARMONY ROW (VARIETY DUO)
June 6, 2023
6:00pm - 10:00pm
$0
Latraia Savage & The All Starz
Pop, R&B/Soul, Rock
May 30, 2023
6:00pm - 10:00pm
Jay Brown

May 30, 2023
1:00pm - 5:00pm
Kathy & Friends

May 29, 2023
6:00pm - 10:00pm
Red

May 29, 2023
1:00pm - 5:00pm