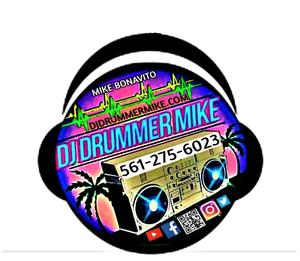 DJ Drummer Mike
Classic Rock, Country, DJ/Dance/Electronic, Funk, High Energy Dance, Hip-Hop/Rap, Jam Band, Pop, Reggae, Rock


I do a unique DJ Drumming Show, that excites every kind of crowd with my vast selection of music. I have playlists for each venue from Night Clubs to Beach Resorts. Please Check out my videos and photos by clicking: http://www.djdrummermike.com
I have preformed at these venues: Blue Martini- West Palm Beach, FL Wyndham Garden Resort- Clearwater, FL Flamingo Resort- St Pete, FL Revolutions Bowling Alley- West Palm, FL (CityPlace)
Cha-Cha Coconuts on the Pier- St Pete, FL
Ferg's Sports Bar- St Pete, FL
Bahama Breeze- Florida Locations
Paradise Grill- St Pete Beach, FL Punky's Bar and Grille- St Pete, FL LA Fitness and YouFit Gym- Florida Locations ...and many more!

Upcoming Events
There are no upcoming events scheduled.



Previous Events


Sun, April 2, 2017
10am-1pm
St. Petersburg

Thu, March 23, 2017
6-10
Clearwater

Thu, March 9, 2017
6-10
Clearwater

Sat, March 4, 2017
6-10
Clearwater

Thu, February 23, 2017
6-10
Clearwater