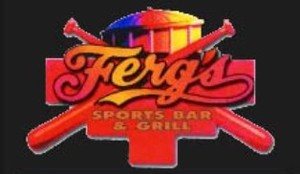 Ferg's Sports Bar & Grill
1320 Central Avenue
St. Petersburg, FL 33705
(727) 822-4562
Map View:
Click here
Ferg's Sports Bar is best typified by the song in the long running NBC sitcom, CHEERS. "Where everybody knows your name and we're always glad you came." Character is what makes Ferg's, "what a sports bar was meant to be!"

It provides every customer, from the youngest sports fan to the season ticket holder, with an experience that keeps them coming back for more.

Ferg's Sports Bar & Grill has not only become downtown's best sports bar, but a city institution.

Upcoming Events
Artist
Date
Code Red
Classic Rock
CODE RED @ FERGS PARTY DECK
Sun, June 11
4:00pm - 8:00pm
Twinkle and Rock Soul Radio
Americana, Classic Rock, Metal, Pop
Sat, June 17
7:00pm - 11:00pm
Twisted Revolvers
Rock
Twisted Revolvers at Ferg's Sports Bar
Sat, June 24
7:00pm - 11:00pm
Shakes Society
High Energy Dance, R&B/Soul, Rock, Ska
FERG'S SPORTSBAR in St Pete!! This will be our 1st show at this very fun and iconic sportsbar so come out & check it out and dance & PaRtY with us! The Rays start play at 7:15 i Seattle so we'll all be watching!! Address: 1320 Central Ave, St. Petersburg, FL 33705 Menu: fergssportsbar.com Phone: (727) 822-4562
Sat, July 1
7:00pm - 11:00pm
Crossfire Creek Band
Country
Sat, July 22
7:00pm - 11:00pm
Twinkle and Rock Soul Radio
Americana, Classic Rock, Metal, Pop
Sat, July 29
7:00pm - 11:00pm
The 727s Band
Classic Rock, Country, High Energy Dance, Rock
The 727s Band @ Ferg's Sports Bar (St Pete)
Fri, September 1
7:00pm - 11:00pm



Past Events
Artist
Date
Streetwise Tampa Bay
Classic Rock, Contemporary, High Energy Dance, Rock
Streetwise Tampa Bay
June 4, 2023
3:00pm - 7:00pm
Twinkle and Rock Soul Radio
Americana, Classic Rock, Metal, Pop
May 27, 2023
7:00pm - 11:00pm
Yaya Diamond and The Dream Chasers
Funk, High Energy Dance, R&B/Soul
May 7, 2023
4:00pm - 8:00pm
Code Red
Classic Rock
CODE RED @ FERGS PARTY DECK
April 30, 2023
4:00pm - 8:00pm
Borderline Band
Classic Rock
April 29, 2023
7:00pm - 11:00pm