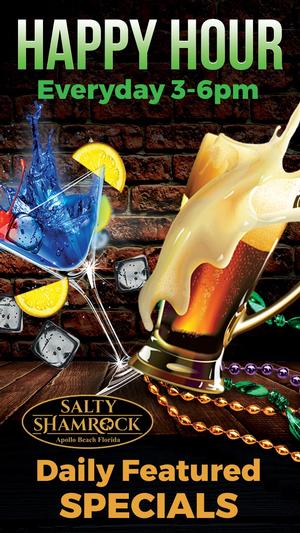 Salty Shamrock Irish Pub
6186 N US 41
Apollo Beach, FL 33572
(813) 938-5282
Map View:
Click here
Live Entertainment
Irish Pub
Restaurant, Sports Bar

The Salty Shamrock, in the heart of Apollo Beach, Florida, is an authentic Irish tavern geared to the fisherman's soul in all of us. The owner hails from Omagh Co Tyrone, Ireland. Salty Shamrock features a lovely Paddy'O outside and a full service dining room and bar inside.

If you're looking for a place to unwind after work or a good time at night, come enjoy our tasty, authentic Irish food or your favorite drink. We host several groups and clubs within the community, weekend musical acts and special events. You'll find that and more at the Salty Shamrock.

Upcoming Events
Artist
Date
Stormbringer
Classic Rock, Rock
Sat, September 30
7:00pm - 11:00pm
Proper Wednesday
Contemporary, Pop, R&B/Soul, Rock
Proper @ Salty Shamrock
Sat, October 7
7:00pm - 11:00pm
Aurora 5
Classic Rock, Pop, Rock
Apollo Beach its time for a serious Rock and Roll Experience. Malou and the Boys Bring it!
Fri, October 13
8:00am - 12:00pm
Whiskey Throttle
Rock
Whiskey Throttle Live Music Salty Shamrock
Sat, October 14
7:00pm - 11:00pm
Westbound & Down
Classic Rock, Southern Rock
Fri, October 20
7:00pm - 11:00pm
301 Travelers
Classic Rock, Country, High Energy Dance, Southern Rock
Sat, October 21
7:00pm - 11:00pm
Aurora 5
Classic Rock, Pop, Rock
Get Ready to Rock with Aurora 5 A night of Unforgettable Music and Electric Energy!
Fri, November 17
8:00pm - 12:00am
Dirty Little Secret - Tampa
Classic Rock, Country, Pop, Rock
Dirty Little Secret @ The Salty Shamrock
Fri, December 1
7:00pm - 11:00pm
$0
Charles Parker Band
Beatles, Classic Rock, Country, Rock
CP Band
Fri, December 8
7:00pm - 11:00pm
Westbound & Down
Classic Rock, Southern Rock
Fri, December 22
7:00pm - 11:00pm
Buzz Factor
Rock
Buzz Factor at Salty Shamrock
Thu, December 28
7:00pm - 11:00pm
Jezabelle
Classic Rock, Rock
Fri, December 29
7:00pm - 11:00pm
Charles Parker Band
Beatles, Classic Rock, Country, Rock
Beach Bumz
Fri, January 5
7:00pm - 11:00pm
Charles Parker Band
Beatles, Classic Rock, Country, Rock
CP Band
Fri, February 23
7:00pm - 11:00pm
Charles Parker Band
Beatles, Classic Rock, Country, Rock
CP Band
Sat, March 23
7:00pm - 11:00pm
Charles Parker Band
Beatles, Classic Rock, Country, Rock
CP Solo
Sun, April 21
6:00pm - 9:00pm
Charles Parker Band
Beatles, Classic Rock, Country, Rock
CP Solo
Sun, May 26
6:00pm - 9:00pm
Charles Parker Band
Beatles, Classic Rock, Country, Rock
CP Band
Sat, July 20
7:00pm - 11:00pm
Charles Parker Band
Beatles, Classic Rock, Country, Rock
CP Solo
Sun, August 11
6:00pm - 9:00pm
Charles Parker Band
Beatles, Classic Rock, Country, Rock
Beach Bumz
Fri, September 6
7:00pm - 11:00pm
Charles Parker Band
Beatles, Classic Rock, Country, Rock
CP Band
Fri, October 4
7:00pm - 11:00pm
Charles Parker Band
Beatles, Classic Rock, Country, Rock
CP Solo
Sun, October 27
6:00pm - 9:00pm
Charles Parker Band
Beatles, Classic Rock, Country, Rock
CP Band
Sat, November 30
7:00pm - 11:00pm
Charles Parker Band
Beatles, Classic Rock, Country, Rock
Beach Bumz
Fri, December 6
7:00pm - 11:00pm



Past Events
Artist
Date
Dirty Little Secret - Tampa
Classic Rock, Country, Pop, Rock
Dirty Little Secret @ The Salty Shamrock
September 29, 2023
7:00pm - 11:00pm
$0
Charles Parker Band
Beatles, Classic Rock, Country, Rock
Beach Bumz Band ...Jimmy Buffet / Beach Boys show
September 23, 2023
7:00pm - 11:00pm
TC and Sass
Funk, High Energy Dance, Pop, Rock
September 16, 2023
7:00pm - 11:00pm
Jezabelle
Classic Rock, Rock
September 15, 2023
7:00pm - 11:00pm
Bert and the Party Boys

September 13, 2023
6:30pm - 8:30pm
$0