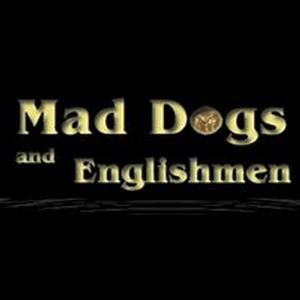 Mad Dogs and Englishmen
4115 South MacDill Avenue
Tampa, FL 33611
(813) 832-3037
Map View:
Click here
Mad Dogs and Englishmen is a restaurant and pub dedicated to London in the Sixties when a new period of optimism and hedonism emerged out of a drab grey post war Britain. Ancient elegance and a new opulence all tangled up in a dazzling blur of op and pop.

Mad Dogs and Englishmen was founded in 1991 in the best tradition of "Hands across the sea" by Wilton Morley a student in London during the sixties and Rick Craig, Lecturer and retired Marine Colonel. Chef Tony Fisher is creating your exquisite meals and behind the bar most evenings you can find Hugo Morley, godson of Noel Coward who famously turned Kipling's quote into a song.

We are about good food, good conversation, an eclectic mix of draft beers and wines and the same rebellious optimism that characterized London in its best, most bohemian decade. Mad Dogs and Englishmen is a restaurant and a pub, theatrical in flavour, acceptably priced, with a fun outdoor patio and a tradition of not taking itself too seriously.

Upcoming Events
There are no upcoming events scheduled.



Past Events
Artist
Date
Stumble Fox
Acoustic, Alternative, Pop, Rock
January 22, 2022
7:30pm - 10:30pm
Stumble Fox
Acoustic, Alternative, Pop, Rock
November 20, 2021
7:30pm - 10:30pm
Diva & The Dude
Acoustic, Country, Pop, Rock
September 14, 2019
8pm-11pm
David Potts
Acoustic, Alternative, Rock
August 24, 2019
8pm-11pm
Lorelei On The Rocks Duo
Acoustic, Blues, Pop, Rock
June 16, 2018
8pm
$no