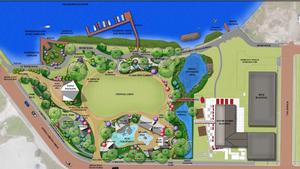 Water Works Park
1710 N Highland Ave
Water Works Park
Tampa, FL 33602
(813) 274-8615
Map View:
Click here
Water Works Park offers a wide expanse of green space for special events. It also has a playground and splash pad for kids to enjoy.
Shelters may only be reserved 50 days prior to the requested date. Grills and bounce houses are prohibited. Food is not allowed in the play or splash pad area.

Upcoming Events
There are no upcoming events scheduled.



Past Events
Artist
Date
Wahh World Fusion Band
World
February 23, 2020
3:45-4:45 East West Music/Dance
Kafkasso
Acoustic, Jam Band, Latin, World
February 23, 2020
12:45-1:30 East West Music/Dance
Lorelei On The Rocks Duo
Acoustic, Blues, Pop, Rock
January 19, 2020
3-7pm
Lorelei On The Rocks Duo
Acoustic, Blues, Pop, Rock
November 2, 2019
3-7pm
Late Night Brass

April 26, 2019
7pm Concerts in the Park Series