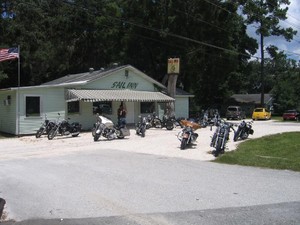 Sail Inn
6107 Broad St.
Brooksville, FL 34601
(352) 796-1877
Map View:
Click here
The Sail Inn is Brooksville's favorite place for great drinks, music, and atmosphere. We feature live music every third Saturday of the month. Our outdoor "Party Deck" is the perfect forum for our live entertainment. Locals often visit the Sail Inn for a game of darts, pool, bowling, or groove to our juke box. Check out our
Events page. We look forward to serving you at the Sail!

Upcoming Events
Artist
Date
LOSTNFOUND
Classic Rock, Country, Holiday, Rockin Blues
Reunion, Past and Present
Sat, October 22
2:00pm - 10:00pm
Big Ragoo, Redheaded Stepchild

Runion, Past and Present
Sat, October 22
2:00pm - 10:00pm



Past Events
Artist
Date
Lawless Intent
Classic Rock, Country, Rock, Rockin Blues
April 10, 2021
3-7 PM
Lawless Intent
Classic Rock, Country, Rock, Rockin Blues
March 6, 2021
1-6 PM
LOSTNFOUND
Classic Rock, Country, Holiday, Rockin Blues
November 16, 2019
2 PM
Lawless Intent
Classic Rock, Country, Rock, Rockin Blues
June 15, 2019
2 pm
Rebel Soul
Country, High Energy Dance
January 6, 2018
1 - 5