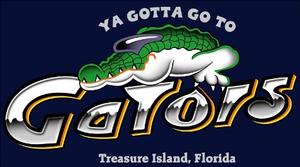 Gators Cafe & Saloon
12754 Kingfish Dr
Treasure Island, FL 33706
(727) 367-8951
Map View:
Click here
Ya Gotta Go to Gators! coined years ago by King Gator himself, Gators has been the place to go on Johns Pass for over 20 years! Once just a small beach bar, Gators on the Pass has been upgraded, remodeled and expanded over the years. And we have done it again! Join us for the newly remodeled Worlds Largest Waterfront bar! Lets just say things are changing and you will love what we have done to the place! Same Gators atmosphere with a swift kick into todays greatest beach bar! Gators on the Pass has always been a favorite summer hangout and for the avid sports fan, now with new updates and new A/C in the downstairs it will continue to be the place to be on Treasure Island year round!

Upcoming Events



Past Events


Fri, November 15, 2019
8:00 PM - Midnight at Gators!
Rock