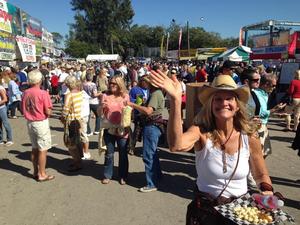 Cortez Commercial Fishing Festival
46th Avenue
Cortez, FL 34215
(941) 301-4000
Map View:
Click here
Join us on February 18th & 19th for the 41st Annual Cortez Commercial Fishing Festival!
To celebrate the 100th anniversary of Star Fish Company the Festival will move back to it's original location on 46th Avenue between 123rd and 124th Streets.
This celebration lets you wander one of Florida's last true working waterfronts. Come on out to learn about our fishing heritage and history while enjoying two days of live music, great food and nautical artists from around the country. This tough and tiny fishing village is listed in the National Register of Historic Places.
During the festival, you can take a break from eating and dancing to check out the Florida Maritime Museum and the Cortez Cultural Center. Kids of all ages will enjoy the critters on display at the touch tanks on the loading docks at Killer Bait and everyone can feed their science side during the "Dock Talks," put on by Florida Sea Grant. Check out the 2023 Festival lineup below.
All proceeds from the Festival benefit the Florida Institute for Saltwater Heritage and the FISH Preserve. This is truly a Party with a Purpose!

Upcoming Events
There are no upcoming events scheduled.



Past Events
Artist
Date
Jason Harman

Cortez Commercial Fishing Festival
February 19, 2023
4:30pm - 6:00pm
KJB (Karen & Jimmy Band)
Classic Rock, R&B/Soul
Cortez Commercial Fishing Festival
February 19, 2023
2:30pm - 4:00pm
Manatee River Bluegrass Band
Acoustic, Bluegrass
Cortez Commercial Fishing Festival
February 19, 2023
12:30pm - 2:00pm
Soupy Davis & The Band

Cortez Commercial Fishing Festival
February 19, 2023
10:30am - 12:00pm
Koko Ray

Cortez Commercial Fishing Festival
February 18, 2023
4:30pm - 6:00pm