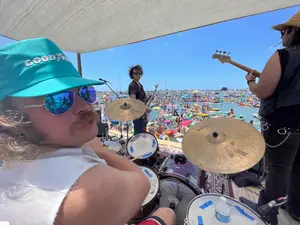 Boatstock near War Vets Memorial Park
9600 Bay Pines Blvd
St. Petersburg, FL 33708
(000) 000-0000
Map View:
Click here
This Park is the closest land marker to Boatstock, a music festival that takes place in the Boca Ciega Bay. The latitude and longitude markers in the water of Boca Ciega Bay are 27.808456,-82.785211. Get there by boat or other flotation device.

About the park...
Includes a landscaped Memorial Center featuring plaques for each military branch. There is a equatorial sundial. The tank s from the Korean War era "Walker Bulldog" for Gen. Walter Walker. Manufactured in 1953 by Cadillac/GMC.

Upcoming Events
There are no upcoming events scheduled.



Past Events
Artist
Date
Fayroy

Boatstock, a floating festival
May 28, 2022
4:00pm - 5:00pm
$0
Stormbringer
Classic Rock, Rock
Boatstock, a floating festival
May 28, 2022
2:30pm - 3:30pm
$0
Johnny Mile & the Kilometers

Boatstock, a floating festival
May 28, 2022
1:00pm - 2:00pm
$0
Have Gun, Will Travel
Americana, Blues, Rock
Boatstock, a floating festival
May 28, 2022
11:30pm - 12:30pm
Aubrey Wollett

Boatstock, a floating festival
May 28, 2022
11:00am - 11:30am
$0